wait list application
Kangal Dog Questionnaire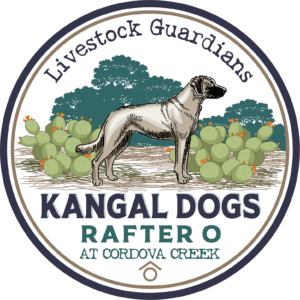 *We will not have a litter in 2023.*
We are members of the Kangal Dog Club of America and adhere to their Breeders' Code of Ethics. Our breeding Kangals are PennHIP certified.  
Our priority is to place puppies as livestock guardian dogs on working farms or ranches. We do not sell them as personal protection dogs.
The Kangal Dog is a calm, stable, devoted,  independent, and powerful livestock guardian dog. They are protective without being overly aggressive. Kangals are very intelligent, and gentle with children and livestock.  All of our dogs are well-socialized. We are dedicated to the ancient heritage of the Turkish Kangal and to raise working dogs.
     To place a reservation on our waiting list, simply fill out the Kangal Dog Questionnaire.  
    Puppies are kept with the Dam for 10-12 weeks to make sure they get off to a good start.  UKC application for registration and all health papers are included with your new puppy.  Pups will receive first set of Vaccines and Parasite Prevention.    All puppies will be microchipped.
If you are interested in Kangal Dog ownership, please complete the Kangal Dog Questionnaire.  Once approved, you will be placed on a waitlist and notified when we have a litter available.  If you do not complete a questionnaire, you will not be placed on the waitlist.