your Mini Nubian boutique
Welcome to the Rafter O
click the icons above for more info
the Rafter O Hall of Fame
Home of Champions
our farm
Quality
Mini Nubians
We are a small operation in Canyon Lake, Texas that prides ourselves on raising wonderful, healthy Mini Nubian dairy goats to join your family homestead and provide you with plenty of rich, sweet milk.
Herd health is our top priority.  Rafter O goats are tested for CAE, CL, and Johne's.  The entire Rafter O Mini Nubian herd is also G6S normal.
Our Mini Nubians are a variety of generations – 1st through 7th. We have brought in lower generations and full Nubians to work on more diversity and bloodlines in the Mini Nubians.   They are registered with the Miniature Dairy Goat Association and the American Dairy Goat Association.
Our goal is to provide kids with great milk lines, good conformation, excellent Nubian traits, and friendly!  Rafter O Mini Nubian kids are so people-oriented..sometimes I wonder if they know they are goats!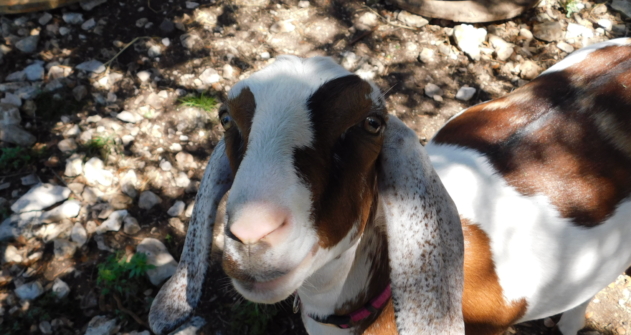 why our mini nubians are so good
Raised without Compromise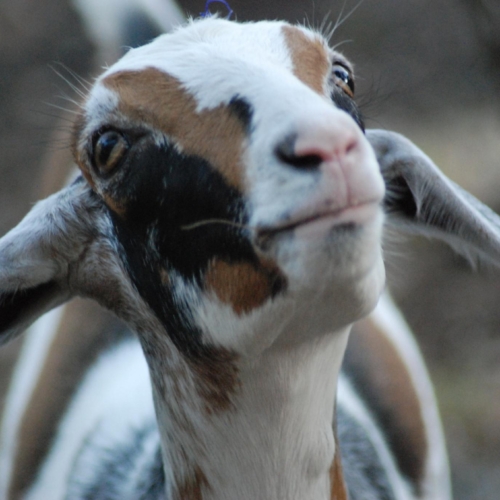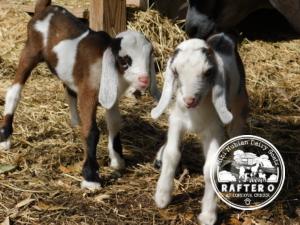 Our Rafter O Mini Nubian herd is raised without compromise.  We provide only the best for our goats whether it be nutritional, medical, husbandry-related, or social.  Our does are hand bred so we know the exact conception date, and we can be present at all kiddings.  Right from birth, our Rafter O kids are cared for with the highest level of attention.  We strive to stay up to date on current research and change our protocols to implement the gold standard of care for our dairy goats.  We abide by the ADGA 5 Freedoms of Dairy Goat Well-being:
FREEDOM FROM HUNGER OF THIRST by ready access to fresh water and a diet to maintain full health and vigor.
FREEDOM FROM DISCOMFORT by providing an appropriate environment including shelter and a comfortable resting area.
FREEDOM FROM PAIN, INJURY, OR DISEASE by prevention or rapid diagnosis and treatment.
FREEDOM FROM FEAR AND DISTRESS by ensuring conditions and treatment which avoid mental suffering.
FREEDOM TO EXPRESS NORMAL BEHAVIOR by providing sufficient space, proper facilities, and company of the animal's own kind.
testimonials
A Few Words from
Our Mini Nubian Families
"We got on the waitlist for a doeling with Rafter O in March. Kerry contacted us when our sweet Pill Bug was born. We knew it would be 10-12 weeks before we could get our sweet girl. In that time, Kerry made sure to send multiple pictures and videos. She made sure we got to see our girl's personality! The time came to pick up our new baby! Kerry was so welcoming and kind. She showed us how she runs Rafter O and all the goats. She answered any and all our questions. Even after leaving, she continued to check on how Pill Bug was doing and how she has transitioned. I can not recommend Kerry and Rafter O enough! If it tells you anything, we are on the waitlist for spring 2021 for 2 more doelings. Rafter O takes pride in their farm and it shows!"
"We bought two does from Rafter O two years ago to start our herd. Detailed health records were provided for each goat and Kerry was helpful in answering all our questions as first-time goat owners. Molly and Honeycomb were disease-free and very friendly to people. Rafter O Honeycomb is a beautiful doe that our whole family loves to milk. Her teats are fantastic and her milk is rich. Kerry went above and beyond in providing us support. She has been a reliable resource and trusted friend as we continue to work with her on improving our herd and providing our family with delicious goat milk."
Kerry is fantastic to work with. She has the most beautiful kids, with MILK! Health, breed conformation, milk production, and friendly goats are what we look for when adding to our herd. You get it all when you get a Rafter O kid! We are so appreciative of the podcasts, blogs, and helpful information Kerry provides. In my opinion, she is one of the top breeders out there. We feel honored to have the Rafter O name in our herd. We know the name stands for quality and honesty and that is important to us!
"Kerry takes great pride in her goats and it shows from the updates she sends to her knowledge she eagerly shares and her attention to detail in the records and packet she provides. Her process and her goats and top-notch. All of the goats I have purchased from Kerry also have very sweet personalities."
"I love my Rafter O goats! I am a repeat customer. I find Kerry's stock to be high quality, very friendly, healthy and Kerry is extremely knowledgeable and easy to work with. I purchased a buck from her that has consistently produced gorgeous, healthy, correct offspring. I recently purchased a doeling from her and I can not wait to see what she produces as well."
"Kerry at the Rafter O has been wonderful and tremendously helpful to me this past year as I began my adventure with Mini Nubians! I bought a beautiful buckling out of Junebug and while I was there picking him up, I fell in love with a doeling who was just so pretty and sweet, I couldn't resist! I am very pleased with both of my kids. They are healthy, friendly and have some great genetics. Thank you so much Kerry, for selling me your quality goats and answering all of my many questions!! "
"When we first decided to add dairy goats to our farm, my husband started researching and searching Facebook where he came across a sales ad for the Rafter O. We purchased our very first starter herd from the Rafter O and from the moment we got them home, we were hooked. We originally purchased a doe in milk(Kandi), her doeling (Rafter O Agarita) and a buckling (Rafter O Tarantula). Last year, we have added another doe in milk (Tilly), her doeling (Rafter O Skunk), a buckling (Rafter O Red Admiral) and this year our daughter added a buckling for her herd (Rafter O American Badger). We couldn't be more pleased with our Rafter O goats and look forward to many more purchases in the future. We have even referred the Rafter O to friends who are looking to get started in Mini Nubians. Not only are the goats from the Rafter O solid, healthy goats with excellent genetics, Kerry's customer service and continued support over the years cannot be beat! We are forever thankful for the chance to call Kerry our friend and mentor."
"I purchased 2 of the absolute sweetest doelings from Rafter O! Had them brought all the way to PA and it was one of the easiest transactions. Kerry had everything ready and was very accommodating to myself and my hauler. Would definitely recommend them..and may just purchase more of their beauties in the future 😘"
"In my opinion, you can't find any better goats than Rafter O at Cordova Creek!
I have 3 to show for it!  This year was Millie. She's a cross between goat, dog, and deer. Sweetest little girl💕.
She was raised with pure love, and I was lucky enough to get her.  Kerry's goats are the best!
She does a fantastic job on their health records, something very helpful to have.
In the short time I've known Kerry, she's always been so knowledgeable, helpful and always willing to share her experience and knowledge with me.  She really cares and loves her goats.
As for Miss Millie,…She is the perfect pet. I love her to pieces. She's spoiled rotten and I love it. I didn't know a goat would cuddle up to a person like she does! Everywhere I go Millie goes. She doesn't know she's a goat.  I don't have children, but Kerry's goats would be the perfect pet for children.
My goats have all been so gentle and sweet from being raised with the love Kerry gives them. She makes the difference in their personalities towards people.  My goats had 2 babies this year and they didn't turn out to be as sweet as Kerry's.
Anybody who wants a Great Mini Nubian, go see Kerry at Rafter O at Cordova Creek! You'll be very happy you did!!
Thank you so very much, Kerry!"
news and articles
Recent Posts and Updates
Why do Goats need Identification? Plain and simple…it is the law. The United States Department of Agriculture (USDA) Animal and Plant Health Inspection Service (APHIS) has federal regulations in regards…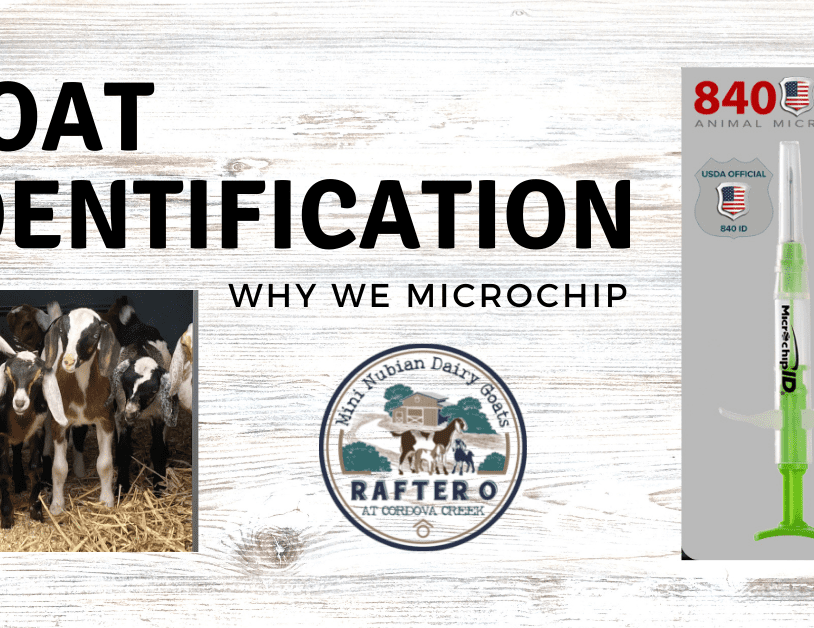 I hate flies! Despise them actually. But, if you have livestock, you are going to have flies. That's a fact. Flies that are troublesome to goats include horn fly, stable…