MALE
Nickname

Blackberry's BQ Frozen Tundra *B

Date of Birth

Mar 25, 2020

Mother

Blackberry's RBI Snow Flurry 2*P

Father

VCH Blackberry's BMM Blue Quartz

MDGA

MN11112
Blackberry's BQ Frozen Tundra *B
Breed: Mini Nubian Purebred (6th Gen)
Date of Birth: 03-25-20
Percentage: 62.11% Nubian / 37.89% Nigerian
Moonspots
G6S Normal by Parentage and Testing
Tundra joins us from CA Blackberry's Goat Herd in California.  He is a Purebred Mini Nubian from excellent milk and show lines.  We have retained several polled does, and we needed a horned buck.  He has great conformation with a long level topline and nice width throughout.  His long ears should correct some shorter ears on some of our does.   He also has earned his *B!
Tundra has sired many wonderful kids!  We have retained two of his kids so far, Sprite and Pancho.  Sprite won two Reserve Grand Champion Junior Doe awards in the 2023 show circuit.
Tundra took yet another Reserve Grand Champion in the Fall 2022 MDGA Virtual Show!  Notes from Judge Lavinia Allen: Entry B is the Mini Nubian Reserve Grand Champion Senior Buck from the 2 under 3-year-old class.  In General Appearance he is wide throughout especially in the chest floor, he has good height in the escutcheon area, and his side profile is very impressive with high withers and smooth blending through his uphill topline along with good length of the neck.  In Body Capacity he is deep in the heart girth and barrel.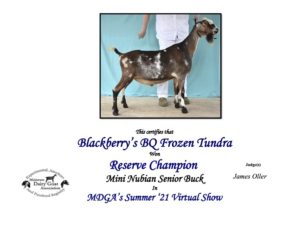 Tundra took another Reserve Grand Champion in the Summer 2021 MDGA Virtual Show!  Now, if we can just get him a win instead of runner-up!
Notes from Judge James Oller: "The reserve will be the yearling.  For his age and stage of maturity this buck brings the points in body capacity I am looking for.  He is very deep-barreled.  Love his sharp uphill look and angularity in dairy character.  It will be fun to watch this one mature!"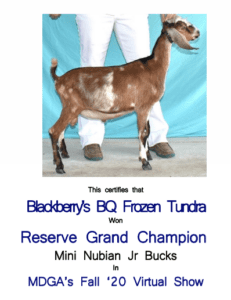 Tundra took Reserve Champion Junior Mini Nubian Buckling in Ring 2 of the Fall 2020 MDGA Virtual Show!  He also took 1st place in his Intermediate Buckling class in both rings.  Here's what the judges had to say:
     Entry B over Entry A in General Appearance for front legs set wide under withers with toes pointing more forward, a more level topline from withers to rump, and a higher more rounded escutcheon area.
     B places over D in body capacity having more width in the chest, and length in the barrel, and in
general appearance being more level over the topline.
2020 TMGR Conformation Clinic Comments (Evaluator: Rebecca Nix)
"Really correct side profile on this buck, however, the rear hock is set a bit behind the pin. Very nice foot shape and pastern length as well as very correct balance and symmetry to his bone pattern.
Correct angle to the shoulder blade and very correct in the shoulder assembly when viewed from the front, nice width between the forelegs, however, I would like to see more depth to the chest floor. From the rear, he has nice width and cleanliness in the escutcheon however he turns in a bit at the hock. I'd like to see the rump a bit wider and more level from thurl to thurl.
I really like the ear on this buck however I'd like to see the head more roman and masculine. Over the top, he has a nice shape to the fore rib and spring to the barrel.  Overall he is well balanced but be careful to use on does with nice straight legs and good breed character."
Kid History
2021     0 Doeling     3 Bucklings 
2022     3 Doelings   3 Bucklings
2023     5 Doelings   4 Bucklings
Tundra's Kids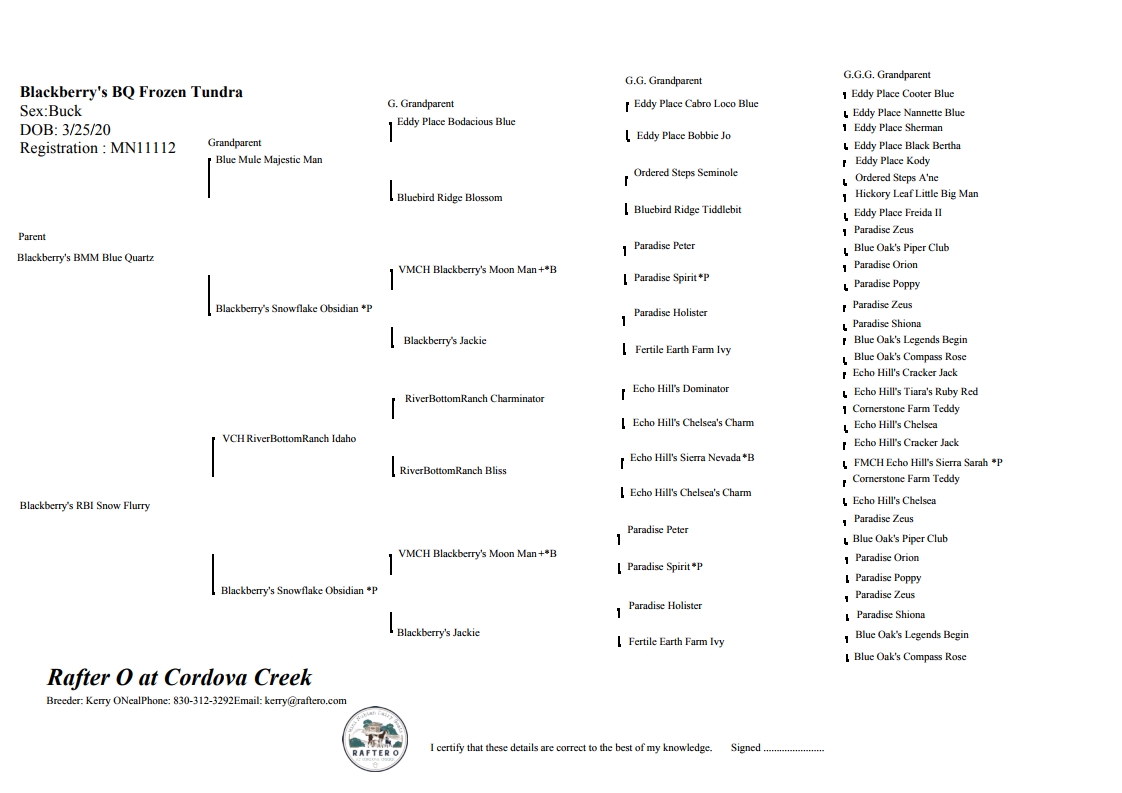 Tundra Pedigree Photos
Health & Screenings
CAE, CL, Johne's - Negative

CAE, CL, Johnes, Q-Fever - Negative

G6S Normal by Parentage
Achievements & Titles
Reserve Grand Champion - Mini Nubian Senior Buck

MDGA Fall 2022 Virtual Show
October 2022
Lavinia Allen

Reserve Grand Champion - Mini Nubian Senior Buck

MDGA Summer 2021 Virtual Show
May 2021
James Oller

Reserve Grand Champion - Mini Nubian Junior Buck

MDGA Fall 2020 Virtual Show
September 2020
Jena Williams