MALE
Nickname

Laz E Acre's Mr. Blue Jeans

Date of Birth

Apr 11, 2017

Mother

W4's Sweet Jasmine Blue

Father

Autumn Wood's Admiral Reno

MDGA

XN06819p*

rs_page_bg_color
Laz E Acre's Mr. Blue Jeans
Reference Goat
Breed: Mini Nubian (7th gen)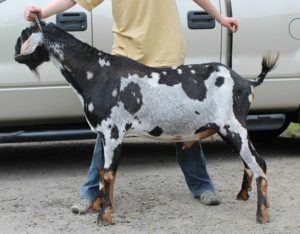 Date of Birth: 04-11-2017
Percentage: 56.23% Nubian / 43.77% Nigerian
POLLED, BLUE EYES, MOON SPOTS
G6S NORMAL BY TESTING
UNOFFICIAL HEIGHT: TO BE MEASURED
Laz E Acre's Mr. Blue Jeans "Levi" is a polled, blue-eyed, moon spotted buck that was bred by the renown Laz E Acre's Farm in Washington State.  Here is what they have to say about the goats they breed:
"The bucks that we have on Laz E Acre are all from wonderful milking lines. They show great breed character with long bodies strong legs and good body width. We also have the advantage of adding lots of color to their offspring.  We will not compromise great milking ability for looks though, and that is why we are ever striving for even better udders, attachments, teat size and placement, milk capacity and longevity. We also work on producing quality goats that are strong, super healthy, and low maintenance with wonderful personalities. "
Levi joins us directly from Daystar's Farm in Woodland, Washington.  He has sired many beautiful kids including the Grand Champion Junior Buck (BCF Legacy's BJR Heart Throb) at the PNWMDGC Summer Sensations Mini Dairy Goat Show in Longview, Washington on June 28, 2019.
We are hoping to retain a polled, blue-eyed buckling out of Levi in Spring 2021.  After his services are done here in Fall 2020, he will be heading to Knight Wolf Farms in Louisiana.
Judges commend Levi for being uphill to the withers, and having good dairy character in a long, lean neck.
2020        4 Doelings     0 Bucklings     2 Polled     2 Horned     2 Blue Eyes     2 Brown Eyes
2021        1 Doeling       3 Bucklings     2 Polled     2 Horned     3 Blue Eyes     1 Brown Eye
Levi's Kids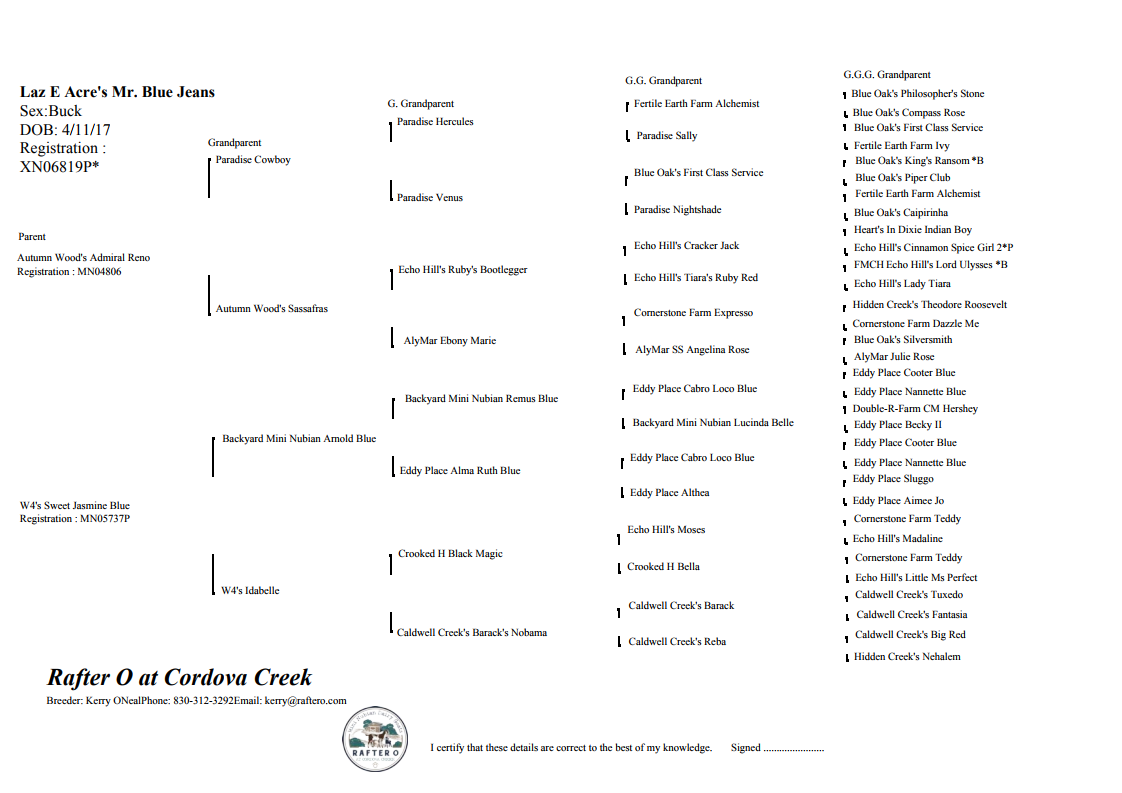 Levi's Pedigree Photos
Health & Screenings
CAE, CL, JOHNES, Q-FEVER, BRUCELLOSIS - NEGATIVE

G6S Normal by Testing - UC Davis