FEMALE
Nickname

Rafter O Fox Squirrel

Date of Birth

Mar 22, 2019

Mother

Goat Trails Pixie

Father

Rite Choice Memphis Blue

MDGA

AMN9563P

rs_page_bg_color
Rafter O Fox Squirrel "Foxy"
Reference Goat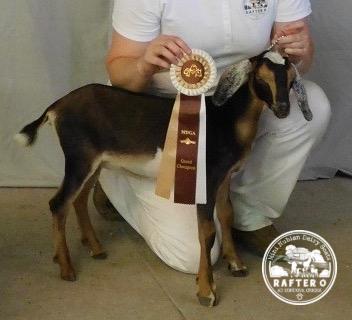 Breed: Mini Nubian 5th Gen
Date of Birth: 03-22-2019
Percentage: 57.11% Nubian / 42.89% Nigerian
Polled, Blue Eyes
G6S Normal by Parentage
Rafter O Fox Squirrel "Foxy" is a polled, blue-eyed doeling with great conformation and excellent milk lines.  She was one of Pixie's quads, and we just love her personality and coloring.  We've been wanting to retain one of Pixie's kids, and when Foxy was born, we knew she was the one!
Foxy won Grand Champion Junior Doeling at the Hill Country Mini Milker Texas Two-Step on June 2nd.  The judge really liked how she moved and commented frequently about the quality of her legs and feet.
Judges commend Foxy for her body capacity and width between the hocks.  She is wide and deep in the chest floor with good depth of rear rib.  Foxy also has nice spring of rib.
Foxy freshened this year with two bucklings, and her udder looks fantastic!  She has great teat placement, teat size, attachments, and good orifice size.  She will be a great doe to hand milk!
2020 TMGR Conformation Clinic Comments (Evaluator: Rebecca Nix)
"This doe has a nice side profile, she is correct in stature with the withers taller than the hips. She is very strong in the back, however would like to see the rump longer from hips to pins. The foreleg is placed properly under the wither and she has the correct angle to the shoulder, I would just like to see the chest floor a bit deeper which would make her heart girth deeper as well at the point of elbow. She has a very correct bone pattern throughout, with clean flat leg bones. Very nice hoof shape, and length of pasterns. From the rear this doe shows lots of width between the hocks and she is clean and open into the escutcheon, however, I would like to see the top of the escutcheon more arch-shaped. Perhaps the rear legs are set too far apart, however she does appear to turn in at the hocks slightly. Over the top she shows correct body shape, being full in the foreribs and correct width from the loin into the hips. This is a very balanced doe, and could be bred to many different types of buck. Probably look for correct feet and legs, depth of heart and dairy strength."
Kidding History
2021     2 bucklings      1 polled     1 blue eyes
Foxy's Kids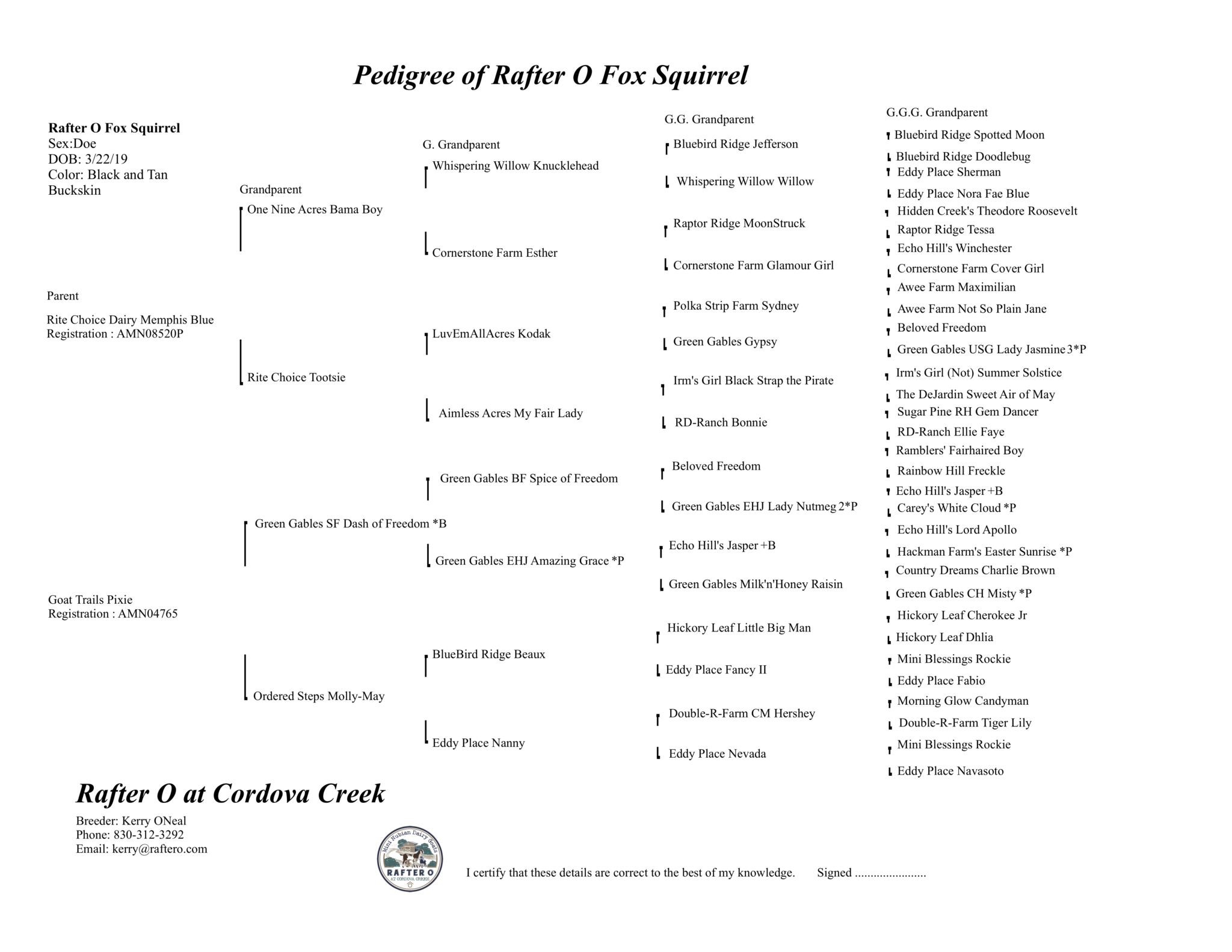 Foxy Pedigree Photos
Health & Screenings
CAE, CL, Johnes, Q-Fever - Negative

G6S Normal by Parentage

CAE, CL, Johnes, Q-fever, Brucellosis - NEGATIVE
Achievements & Titles
Grand Champion Junior Doeling

HCMM Texas Two Step
June 2019
Gary Whitehead