FEMALE
Nickname

Blackberry's BQ Sapphire

Date of Birth

Apr 14, 2019

Mother

Blackberry's CRB Accordion

Father

VCH Blackberry's BMM Blue Quartz

MDGA

XN09746
Blackberry's BQ Sapphire
Breed: Mini Nubian 2nd Gen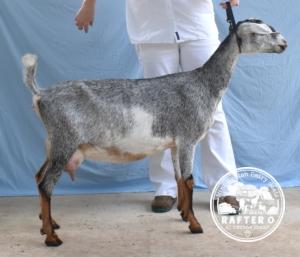 Date of Birth: 04-14-19
Percentage: 56.63% Nubian / 43.37% Nigerian
Blue Roan
G6S Normal by Parentage
Blackberry's BQ Sapphire is a beautiful second-generation Mini Nubian out of new and old lines from CA Blackberry's Goat Herd in Valley Center, California.  Sapphire has a ton of MILK in her pedigree and excellent conformation.  Her stature is uphill at the withers and her topline is very level.  She won Reserve Grand Champion Junior Doeling in the Fall 2019 MDGA Virtual Show!
Judges commend Sapphire for being high in her rear udder attachment and strong in her medial suspensory ligament. In dairy character, she is long and lean in her neck.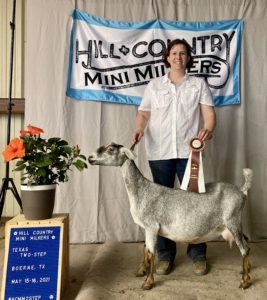 Sapphire took Reserve Grand Champion Senior Mini Nubian Doe at the Hill Country Mini Milker Texas Two-Step on May 16, 2021.  Both judges really commended her on her overall conformation and mammary system.
In talking with Judge Hallock after the show, she said that if she was getting into Mini Nubians, she would be looking for a goat just like Sapphire.  
Exciting future for this gal!  She has freshened three times with improvements each year.  We are excited to see her mammary system continue to develop.
We retained her 2021 daughter, Sandy.  Sandy won Grand Champion Mini Nubian Junior Doe in the Summer 2021 MDGA Virtual Show!
Kidding History
Sapphire's Kids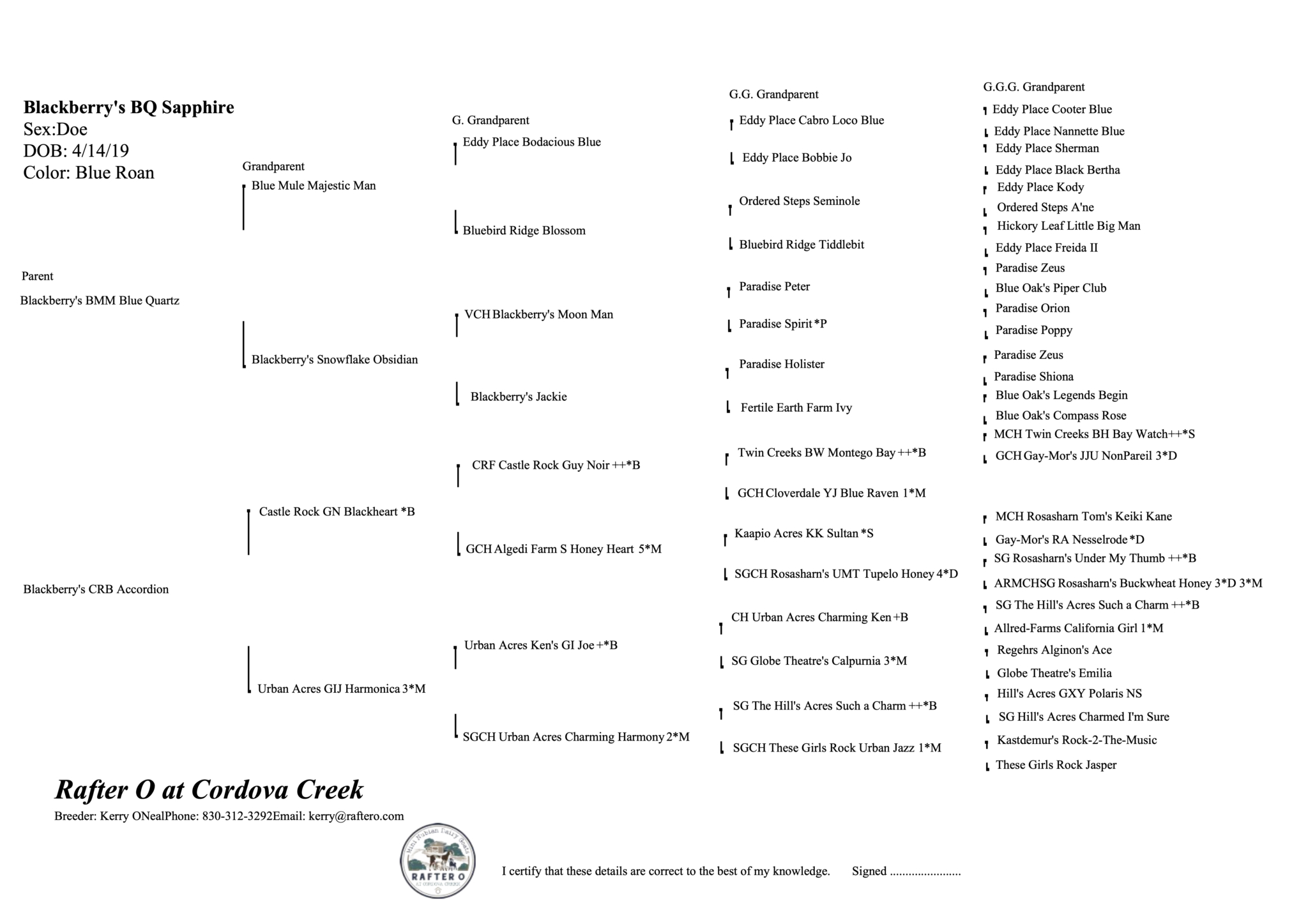 Sapphire Pedigree Photos
Health & Screenings
CAE, CL, Johne's - Negative

CAE, CL, Johnes, Q-Fever - Negative

CAE, CL, Johnes, Q-fever, Brucellosis - NEGATIVE

G6S Normal by Parentage
Achievements & Titles
Reserve Grand Champion - Senior Mini Nubian Doe

HCMM Texas Two-Step
May 2021
Lorelei Hallock

Reserve Grand Champion - Junior Mini Nubian Doe

MDGA Virtual Show
November 2019
Lorelei Hallock