MALE
Nickname

Rafter O Ravine Haze

Date of Birth

Feb 27, 2021

Mother

Goat Trails Pixie

Father

Laz E Acre's Mr. Blue Jeans

MDGA

MN13177P
Rafter O Ravine Haze
Breed: Mini Nubian 6th gen
DATE OF BIRTH: 02-27-21
PERCENTAGE: 57.37% NUBIAN / 42.63% NIGERIAN
POLLED.  BLUE EYES.
G6S NORMAL BY PARENTAGE
This boy's got it all!  Polled, blue eyes, flashy colors, and a super sweet personality!  All we wanted this year was a polled, blue-eyed buckling from either Pixie or June Bug, and Pixie's delivered with the first 2021 kid born!  Since we sold Levi in the Fall of 2020, this was our chance to retain his fabulous genetics in our herd.  He only bred one doe for the 2022 kidding season, and they were very nice.  We are looking forward to using him on more does this year.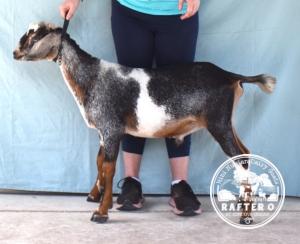 Pixie comes from great milk lines from Green Gables.  She's got splashy color, good conformation, and the attitude to go with it!  Pixie has great teat and orifice size…we love milking her! Pixie's daughter, Foxy, won Grand Champion Junior Doeling at the Hill Country Mini Milker Texas Two-Step on June 2, 2019.  Pixie always throws awesome, splashy colors, so we are stoked to see what this combo can provide!
Levi comes from great milk lines plus he's blue-eyed and polled.  
Name Origin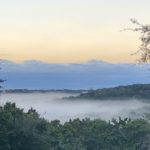 When Haze was born, it was a very dreary rainy evening.  Visibility was almost zero.  Pixie kidded three beautiful kids, Ravine Haze, Valley Vapor and Canyon Mist…all weather-related names to match the mood of the moment.
A ravine is a deep, narrow gorge with steep sides.  Haze is a slight obscuration of the lower atmosphere, typically caused by fine suspended particles.
Kid History
2022        2 Bucklings        1 Doeling           1 Polled      0 Blue Eyes       
2023        4 Bucklings        3 Doelings          2 Polled      4 Blue Eyes 
Haze Kids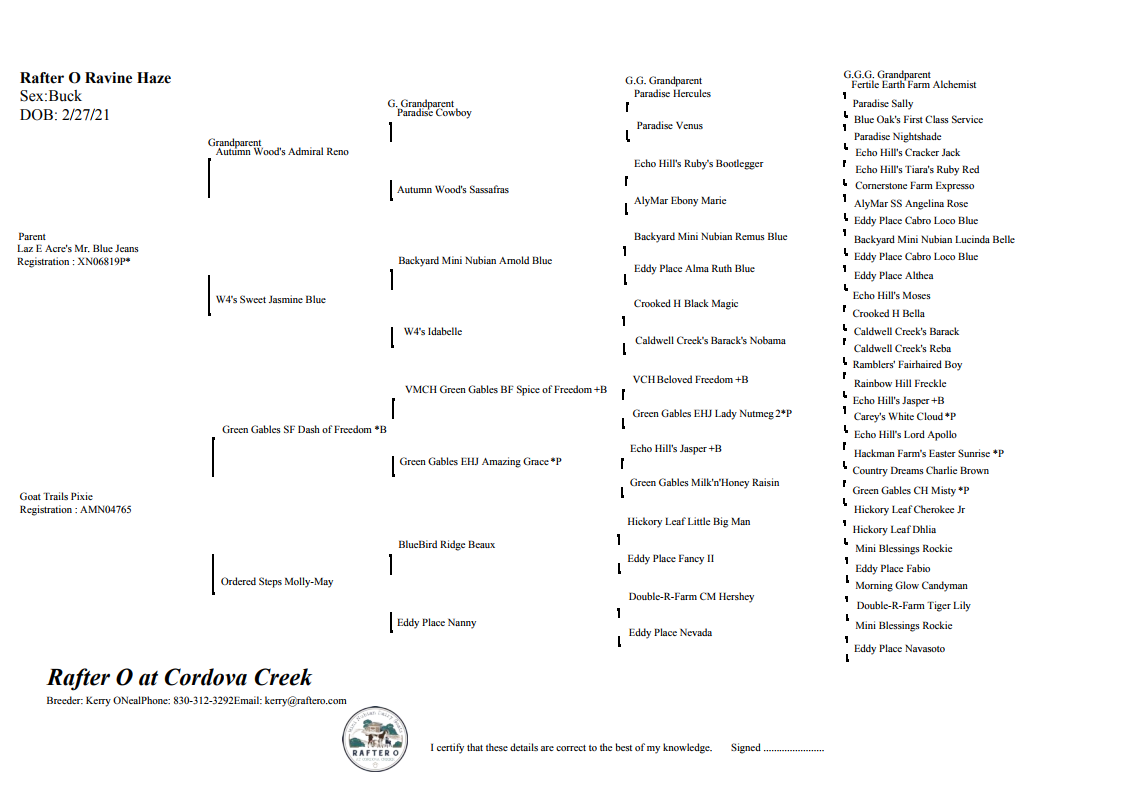 Haze Pedigree Photos
Health & Screenings
CAE, CL, Johne's - Negative