FEMALE
Nickname

Rafter O Sandhill Crane

Date of Birth

Mar 18, 2021

Mother

Blackberry's BQ Sapphire

Father

Rafter O Meadowlark

MDGA

XN13178P
Rafter O Sandhill Crane "Sandy"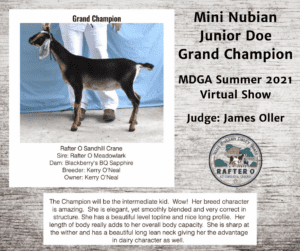 Breed: Mini Nubian 2nd Gen
Date of Birth: 03-18-21
Percentage: 67.18% Nubian / 32.82% Nigerian
Polled
G6S Normal by Parentage
Sandy comes from great Nigerian and Nubian lines!  She is sure to infuse some great milky genetics into our herd…and she's POLLED!  She has a super-sweet personality.  We had listed Sandy for sale, but after further evaluation, we have decided to retain her.  Sandy placed 4th in both rings (in a large class) at the HCMM Texas Two-Step in May 2021.   She will be bred for Spring 2023 kids.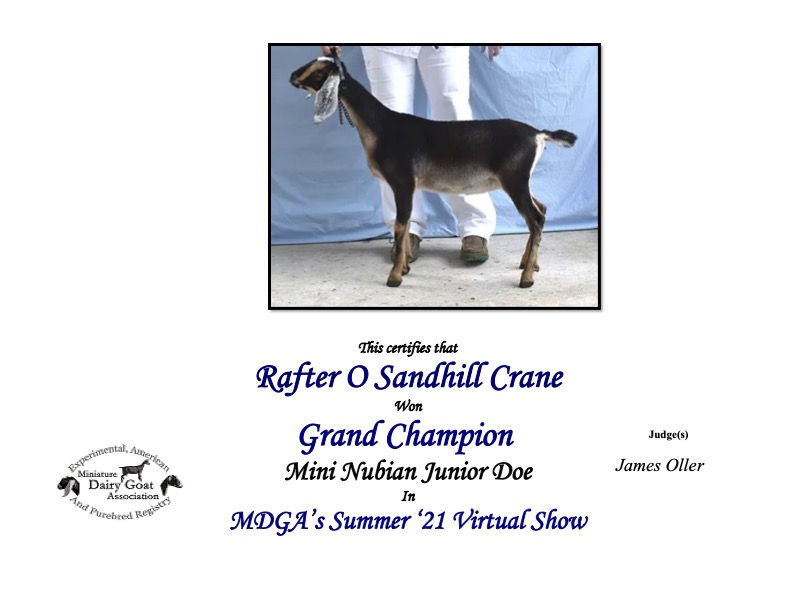 Sandy won Grand Champion Mini Nubian Junior Doe in the MDGA Summer 2021 Virtual Show under James Oller!  Mr. Ollers' comments: "The Champion will be the intermediate kid.  Wow!  Her breed character is amazing.  She is elegant, yet smoothly blended and very correct in structure. She has a beautiful level topline and nice long profile.  Her length of body really adds to her overall body capacity.  She is sharp at the wither and has a beautiful long lean neck giving her the advantage in dairy character as well."
Her dam, Sapphire, has an excellent 3F udder with great attachment and a nice globular shape.  Nice high attachment, good teat placement, and good orifice size.  Sapphire won Reserve Grand Champion Mini Nubian Junior Doe in the MDGA Fall 2019 Virtual Show and Reserve Grand Champion Mini Nubian Senior Doe in the HCMM Texas Two-Step in May 2021.
Lark is our first retained buckling at the Rafter O.  His dam, Ruby, had LONG teats with great placement – which will help Sandy have a larger teat size.  Lark also has long Nubian ears that will help correct Sapphire's fly-aways!  
Name Origin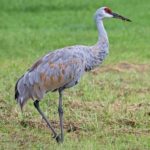 Whether stepping singly across a wet meadow or filling the sky by the hundreds and thousands, Sandhill Cranes have an elegance that draws attention. These tall, gray-bodied, crimson-capped birds breed in open wetlands, fields, and prairies across North America. They group together in great numbers, filling the air with distinctive rolling cries. Mates display to each other with exuberant dances that retain a gangly grace. Sandhill Crane are found in Texas in the Winter.  Their bugling calls are unique and can be heard from miles away—they can help alert you to this species' presence, particularly as they pass overhead on migration.
Kidding History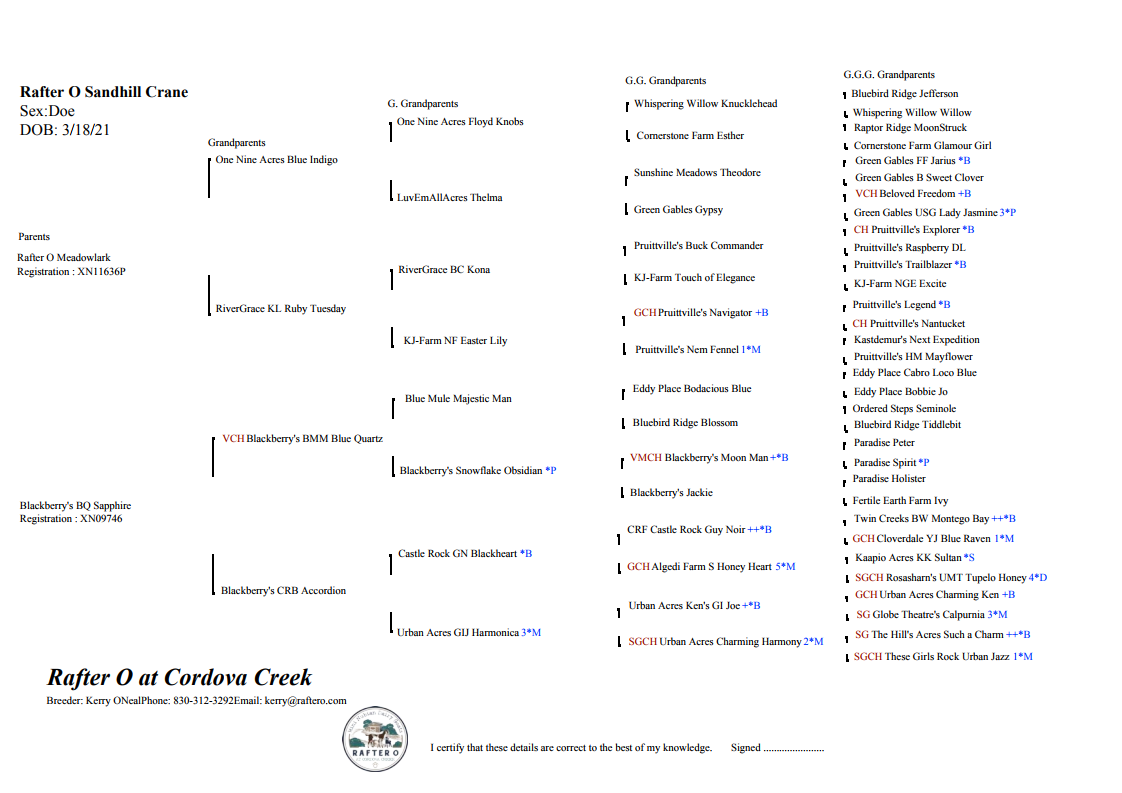 Sandy Pedigree Photos
Health & Screenings
CAE, CL, Johne's - Negative

G6S Normal by Parentage
Achievements & Titles
Grand Champion - Mini Nubian Junior Doe

MDGA Summer 2021 Virtual Show
May 2021
James Oller

4th in <4m Junior Mini Nubian Doe Age Class (Both Rings)

HCMM Texas Two-Step
May 2021
Lorelei Hallock and Patrick Page-Sutter