FEMALE
Nickname

Rafter O Carolina Wren

Date of Birth

Mar 19, 2020

Mother

RiverGrace KL Ruby Tuesday

Father

One Nine Acres Blue Indigo

MDGA

XN11095P
Rafter O Carolina Wren
Breed: Mini Nubian 1st Gen
Date of Birth: 03-19-20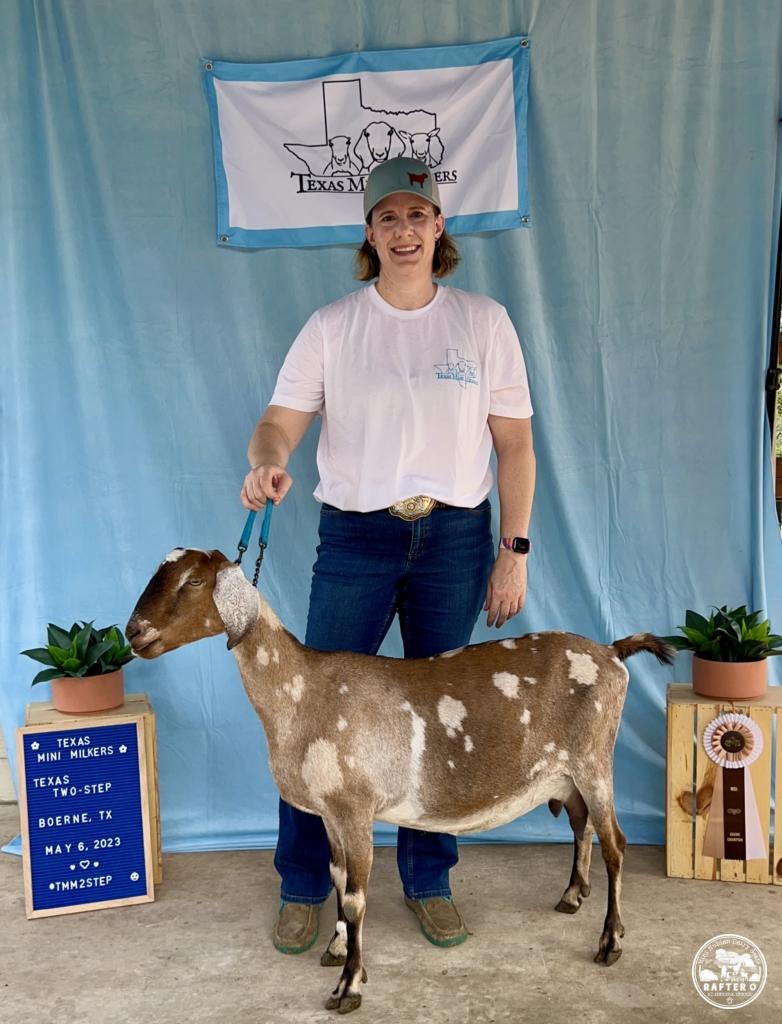 Percentage: 77.72% Nubian / 22.28% Nigerian
Polled & Moonspots
G6S Normal by Parentage
Wren is the result of our infusion of Nubian genetics into our Rafter O herd.  Her dam, Ruby, is a small Nubian doe with a nice, milky pedigree.  We loved the teat size and placement on Ruby, and we are happy to continue those traits with Wren.
Wren is a very feminine doe and has a very high escutcheon.  She has kidded twice with beautiful buck/doe twins.  While she was a little ornery on the milk stand at first, she turned out to be a great milker with good teat and orifice size, and good production and capacity.  She is a dream to hand milk!  We are looking forward to her future freshenings!
On May 6, 2023, Wren took home Grand Champion Mini Nubian Senior Doe at the Texas Mini Milkers Texas Two-Step under Judge Ashley Burton.  She was in the running for Best Udder, but Clover beat her out.  She now has two legs, and only needs one more to become a Finished Champion!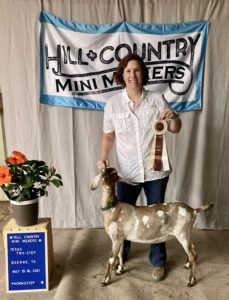 Wren took Grand Champion Mini Nubian Junior Doe at the Hill Country Mini Milker Texas Two-Step on May 15, 2021, under Judge Patrick Page-Sutter earning her restricted leg.
Name Origin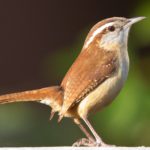 Male and female Carolina Wrens look alike; both are reddish-brown above and warm buffy-orange below, with a long, slightly downcurved bill, a bold white eyebrow stripe, a rusty cheek, white throat, and a relatively long tail.
Carolina Wrens are common in Texas. They can be found in dense forest undergrowth, especially in shrubby tangles and thickets. They usually forage in pairs, creeping around vegetated areas and scooting up and down tree trunks in search of insects, spiders, and fruit. They will visit bird feeders for seed, peanuts, and suet.
Keeping a brush pile is a great way to attract Carolina Wrens to your yard. They eat predominantly insects and readily visit suet feeders. Often heard before they are seen, this small, shy bird produces a loud song. The adults live in pairs all year, and they may \"duet\" at any season, with the female giving a chattering note while the male sings ringing variations of tea-kettle-tea-kettle-tea kettle.
Males build nests in various locations to attract a mate. Once he has attracted a female, she usually proceeds to build her own nest, ignoring all his attempts. Sometimes Carolina Wrens use nest boxes, but they often prefer eave overhangs and more unusual spots, particularly hanging baskets. If a Carolina Wren nests in an inconvenient place, don't despair! From when the female lays her last egg it's only about 4 weeks until the babies leave the nest. Sit back and enjoy the family antics even if it is in your favorite gardening hat.
Kidding History
Wren Kids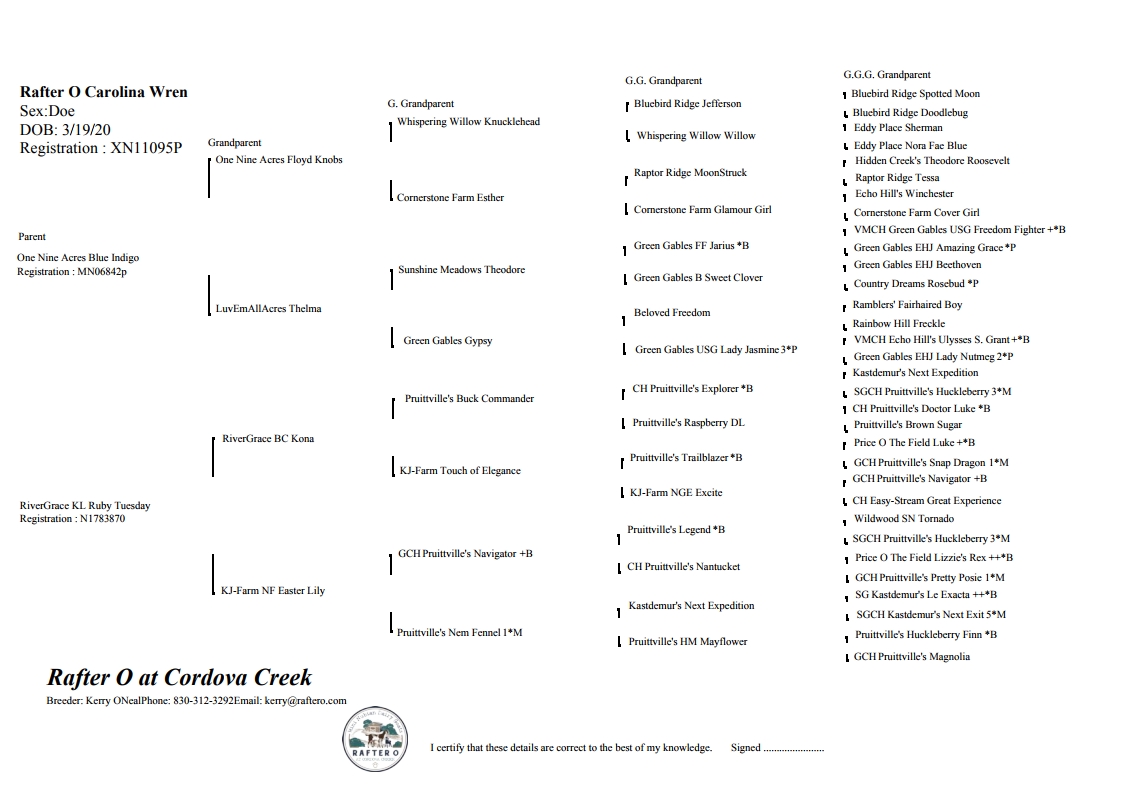 Wren Pedigree Photos
Health & Screenings
CAE, CL, Johne's - Negative

CAE, CL, Johnes, Q-Fever - Negative

G6S Normal by Parentage
Achievements & Titles
Grand Champion - Mini Nubian Senior Doe

Texas Mini Milkers Texas Two-Step
May 2023
Ashley Burton

Grand Champion - Junior Mini Nubian Doe

HCMM Texas Two-Step
May 2021
Patrick Page-Sutter