MALE
Nickname

Rafter O Spotted Towhee

Date of Birth

Feb 24, 2023

Mother

Rafter O Carolina Wren

Father

Blackberry's BQ Frozen Tundra *B
Rafter O Spotted Towhee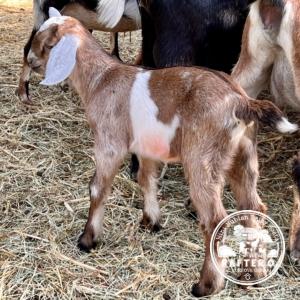 GENERATION: 2ND
PERCENTAGE: 69.92% NUBIAN / 30.08% NIGERIAN
POLLED.  MOONSPOTS.
To get on our Wait List…click here!
Wren is the result of our infusion of Nubian genetics into our Rafter O herd.  Her dam, Ruby, is a small Nubian doe with a nice, milky pedigree.  We love the teat size and placement on Ruby, and we are hoping to continue those traits with Wren.  Wren is very feminine doeling and has a very high escutcheon.  She kidded in 2022 with beautiful buck/doe twins.  While she was a little ornery on the milk stand at first, she turned out to be a great milker with good teat and orifice size, and good production and capacity.  We are looking forward to her future freshenings!  She took Grand Champion Junior Mini Nubian Doe at the Hill Country Mini Milker Texas Two-Step on May 15, 2021, under Judge Patrick Page-Sutter.
Tundra is our spectacular buck from out West.  He brings in a powerhouse pedigree of champs and milk stars. He's got great conformation, and should only improve these kids!  We specifically brought him in to breed to our polled does since he is horned and disbudded – but we are using him on several girls this year.  Tundra won Reserve Grand Champion Mini Nubian Buckling in the Fall 2020 MDGA Virtual Show!  Tundra also has his *B – milk star.  AND…Tundra won Reserve Grand Champion Mini Nubian Senior Buck in the Summer 2021 MDGA Virtual Show!
This is a repeat breeding from 2022 – Inca and Jack.  These kids will be awesome (again!) – can't wait to see them!