FEMALE
Nickname

Rafter O June Bug

Date of Birth

Mar 22, 2016

Mother

Eddy Place Kandi Kisses

Father

Sonflower Ranch's Elvin

MDGA

MN05841
Rafter O June Bug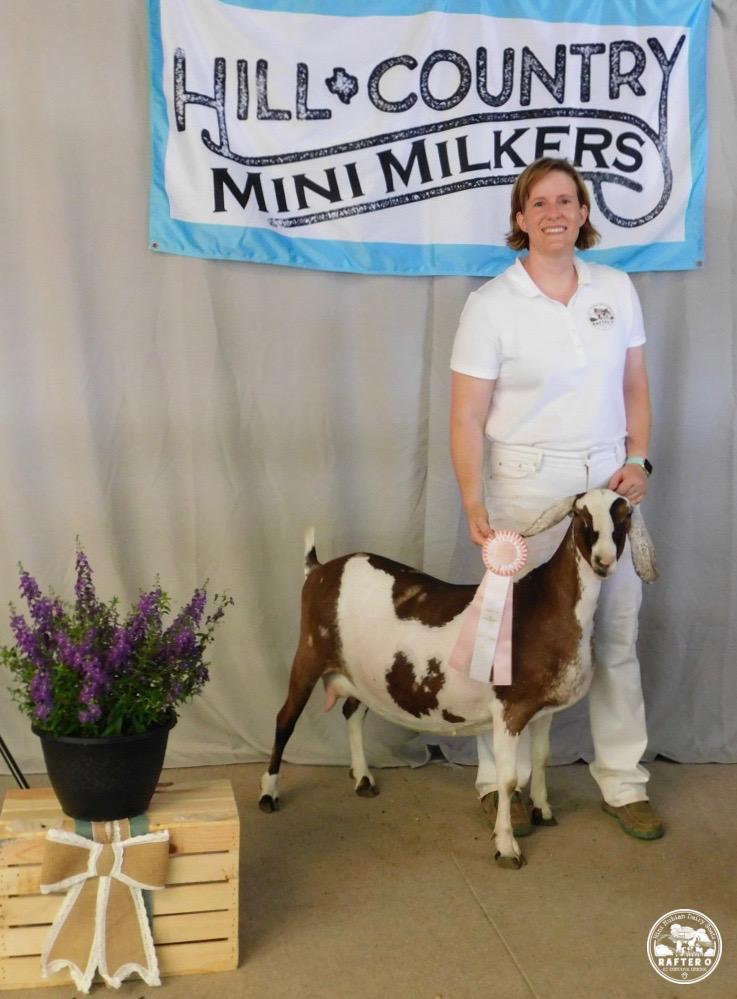 Breed: Mini Nubian Purebred (6th gen)
Date of Birth: 03-22-16
Percentage: 50.79% Nubian / 49.21% Nigerian
Moonspots
G6S Normal by Testing
Unofficial Height: 28.5 inches
June Bug was #2 in Kandi and Elvin's quads in 2016 and our first Rafter O doeling. She has good conformation and wide ears that are nice and long.  We love her cute pink nose!  She's got great milk lines on both sides.  She has freshened nicely with good attachments and large orifices.  She milks out FAST!
June Bug took Best in Show, Best Udder in Show and Grand Champion Senior Mini Nubian Doe at the Hill Country Mini Milkers Fall Frolic Show in Decatur, TX on Nov. 3, 2018!  Way to go June Bug!
June Bug took Best Udder in Show again in Ring 2 at the Hill Country Mini Milkers Texas Two Step on June 2, 2019.
Judges commend June Bug for her great feet and legs, being very strong in the pastern. She also has desirable breed characteristics, having a longer and more bell-shaped ear which rests closer to her head. In body capacity, she has a nice wide chest floor.  In mammary system, June Bug has good extension to the fore udder.
June Bug's daughter, Doodlebug, cleaned up at the Hill Country Mini Milker Texas Two Step on June 2nd!  She won Grand Champion Junior Doeling in the first ring, and Reserve Grand Champion Junior Doeling in the second ring.  
June Bug started our 2023 kidding season off with a BANG!  QUINTUPLETS!  We have retained one doeling, Nessie, from her Quintuplets.
June Bug will take the year off in 2024, and will possibly be retired.
Name Origin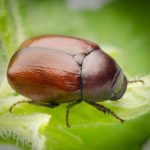 Adult beetles, commonly referred to as June Bugs are ½ to 5/8 inches long, and reddish brown. White grubs are "C"-shaped larvae, up to 1 inch long, with cream-colored bodies and brown head capsules. They have three pairs of legs, one on each of the first three segments behind the head.
There are more than 100 species of scarab beetles from several genera (e.g.,Cyclocephala, Phyllophaga, and others) in Texas that are considered to be white grubs, May beetles and June bugs. However, the most common is Phyllophaga crinita. Their biologies are similar, but species differ in distribution, habitat preference, length of life cycle and seasonal occurrence. Other common species include the southern masked chafer, Cyclocephala immaculata (Oliver), and the green June beetle, Cotinis nitida (Linnaeus). The Japanese beetle, Popillia japonica, introduced into the northeastern United States and migrating west and south, has recently been detected in some Texas counties.
Kidding History:
June Bug's Kids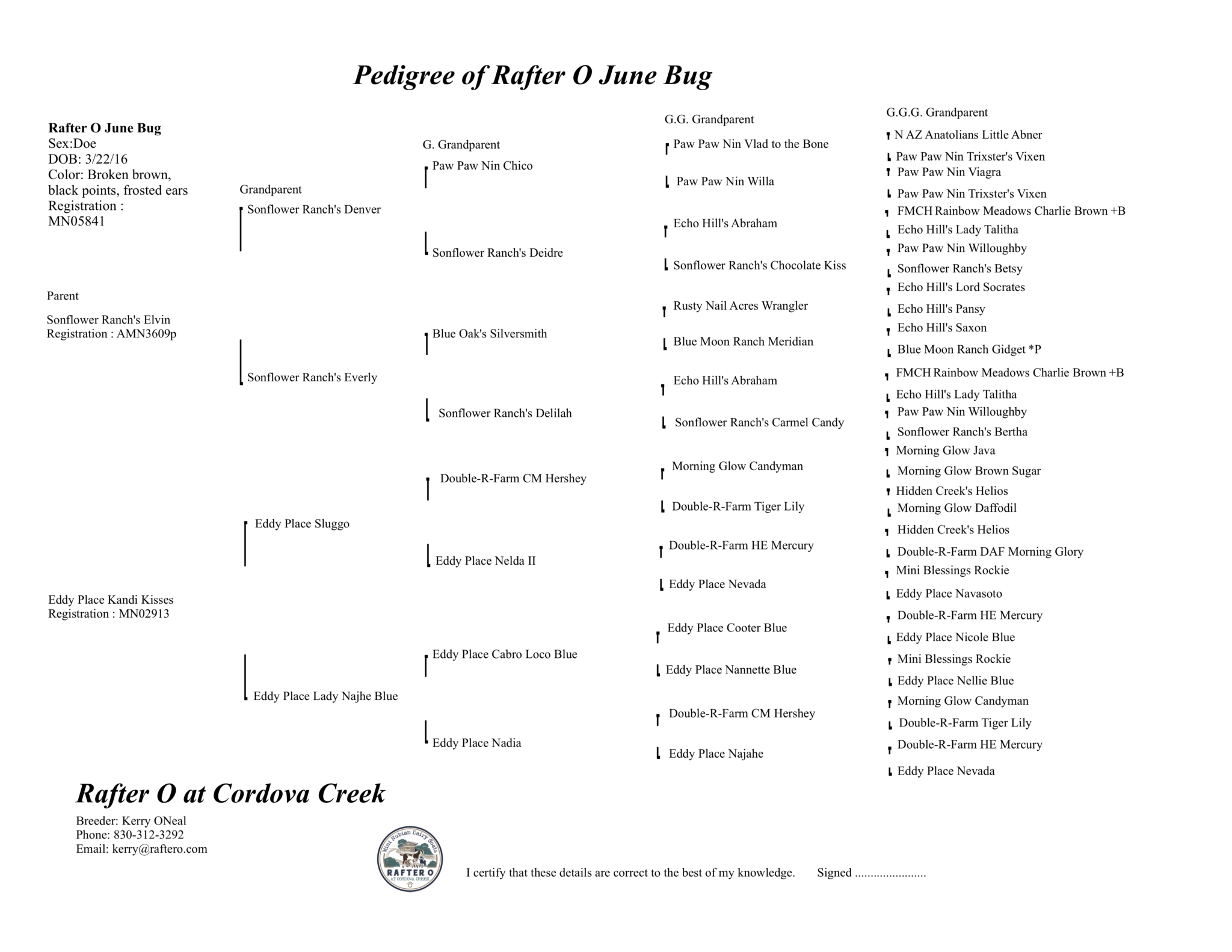 June Bug's Pedigree Photos
Health & Screenings
CAE, CL, Johne's - Negative

CAE, CL, Johnes, Q-Fever - Negative

G6S Normal by Testing - TVMDL

CAE, CL, Johnes, Q-fever, Brucellosis - NEGATIVE
Achievements & Titles
Best Udder in Show

HCMM Texas Two Step
June 2019
Gary Whitehead

Best Udder in Show

HCMM Fall Frolic
November 2018
Yvonne Blosser

Best in Show

HCMM Fall Frolic
November 2018
Yvonne Blosser

Grand Champion - Senior Mini Nubian Doe

HCMM Fall Frolic
November 2018
Yvonne Blosser