FEMALE
Nickname

Rafter O Doodlebug

Date of Birth

Feb 27, 2019

Mother

Rafter O June Bug

Father

One Nine Acres Blue Indigo

MDGA

MN09562
Rafter O Doodlebug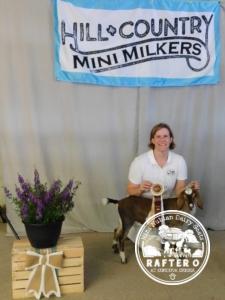 Breed: Mini Nubian Purebred (7th Gen)
Date of Birth: 02-27-2019
Percentage: 53.12% Nubian / 46.88% Nigerian
G6S Normal by Parentage
Doodlebug was June Bug's single doeling in 2019.  She is super sweet with great conformation and width.  We are expecting her to carry on Kandi's legacy.  
Doodlebug cleaned up at the Hill Country Mini Milker Texas Two-Step on June 2nd!  She won Grand Champion Junior Doeling in the first ring, and Reserve Grand Champion Junior Doeling in the second ring.  We are very proud of her!  Now, she just needs two more legs as a Senior to become a Champion, FCH.
Doodlebug freshened with a single doeling in 2020 and single buckling in 2021.  Her udder looks nice, but the singles didn't give us the capacity we want to see.  In 2022, she kidded triplets, and increased her capacity.  Her udder is very nice and easy to milk.  She has great front-end assembly and length of body.  
Kidding History:
Doodlebug Kids
Doodlebug Pedigree Photos
Health & Screenings
CAE, CL, Johnes, Q-Fever - Negative

CAE, CL, Johnes, Q-fever, Brucellosis - NEGATIVE

G6S Normal by Parentage
Achievements & Titles
Grand Champion Junior Doeling

HCMM Texas Two Step
June 2019
Justin Bassett

Reserve Grand Champion Junior Doeling

HCMM Texas Two Step
June 2019
Gary Whitehead