MALE
Nickname

Rafter O Orbweaver "Ziggy"

Date of Birth

Mar 14, 2021

Mother

Nomad Once in a Blue Moon

Father

Rite Choice Memphis Blue

rs_page_bg_color
Rafter O Orbweaver "Ziggy"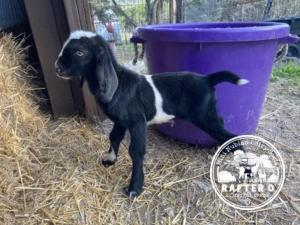 Generation: 2nd
Percentage: 76.30% Nubian / 23.70% Nigerian
Polled and blue eyes (possible Homozygous Blue Eyes)
Ziggy left the Rafter O and went to a new farm with his mom, Clair, and sister, C.C.  He is now old enough to be weaned, so he is now looking for a new home.  If you are interested, I will connect you with the new farm, and the transaction will occur between the buyer and Ziggy's new farm.  He is in Cedar Hill, Texas.
To get on our Wait List…click here!
This is a repeat breeding from 2020 that gave us a fantastic Cou Clair doeling, Cricket, and a polled buckling, Hopper.
Clair represents our infusion of great Nubian genetics into our Rafter O herd.  She has great conformation and rare Cou Clair markings.  Clair's udder is nicely attached with great teat size and placement.  Her pedigree is also outstanding! 
 Memphis puts great width on his kids, and he is polled and blue-eyed.