FEMALE
Nickname

Rafter O Cricket

Date of Birth

Feb 26, 2020

Mother

Nomad Once in a Blue Moon

Father

Rite Choice Memphis Blue *B

MDGA

XN11094

rs_page_bg_color
Rafter O Cricket
Reference Goat
Breed: Mini Nubian 2nd Gen
Date of Birth: 02-26-2020
Percentage: 76.30% Nubian / 23.70% Nigerian
Cou Clair
G6S Normal by Parentage
Cricket is a beautiful, Cou Clair 2nd Gen Mini Nubian doe.  Her dam, Clair, has infused some great Nubian genetics into our herd.  We have retained Cricket this year, and we retained her sister, Clover, last year.  Cricket's pedigree has a nice blend of old and new lines.  Her sire, Memphis, has put some great width on her, and we are excited to get her in the show ring, both virtual and live!
Cricket freshened this year with buck/doe twins.  Her udder looks fantastic.  Nicely attached and socked on!  Her foreudder is nice and smooth.  She was such a good mom, she pretty much nursed all the other Rafter O kids when their moms wouldn't let them nurse!
Judges commend Cricket for being long in bone pattern and having appropriate angulation through the hock in her side profile.
2020 TMGR Conformation Clinic Comments (Evaluator: Rebecca Nix)
"Nice length of bone pattern throughout on this doe. She has a nice length of neck however it could blend more smoothly into the withers. She has an appropriate angle to the shoulder blade when viewed from the side, however, when viewed from the front you can see that she is a bit narrower at the top of the shoulder assembly than the bottom. She has a lot of length of body, however is very shallow in the chest and all the way back to the flank. When viewed over the top she shows nice shape and spring to the fore rib and barrel however her hips are narrow. I'd also like to see more length to the rump from hip to pin. Would like to see the legs, both fore and rear point more correctly forward and the rear legs to be more perpendicular with the pin bones when viewed from the rear. She looks to have nice dairy strength with the bone being flat, however, I would like to see the shape to the top of the escutcheon more arched.  This doe would do best being bred to a buck with very correct body capacity and feet and legs."
Kidding History
Cricket's Kids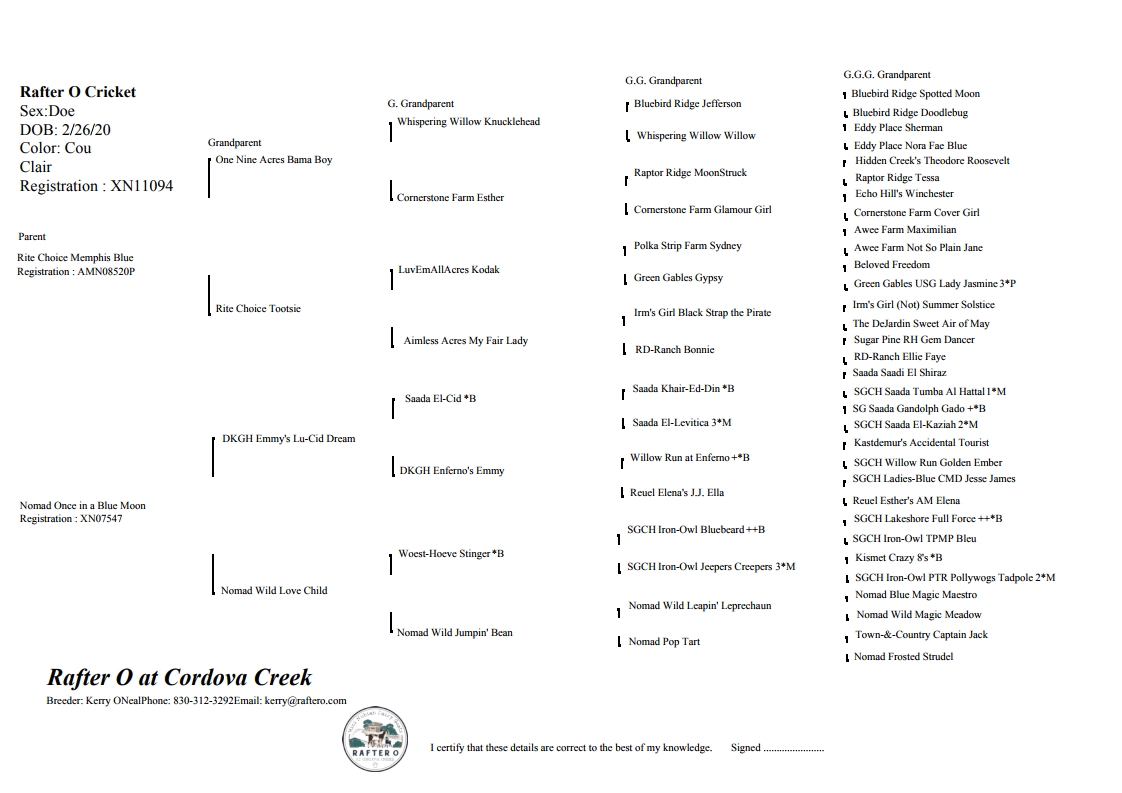 Cricket Pedigree Photos
Health & Screenings
CAE, CL, Johnes, Q-Fever - Negative

G6S Normal by Parentage