MALE
Nickname

Rafter O Edwards Plateau

Date of Birth

Mar 20, 2021

Mother

Rafter O Cricket

Father

Rafter O Meadowlark

rs_page_bg_color
Rafter O Edwards Plateau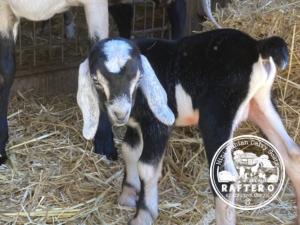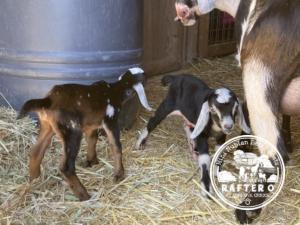 GENERATION: 2ND
PERCENTAGE: 77.01% NUBIAN / 22.99% NIGERIAN
POLLED.  SUNDGAU.
AVAILABLE.
This buckling is fabulous!  Sundgau color pattern and polled!  Cricket's FF udder is looking fantastic.  Eddie is sure to infuse some excellent genetics into your herd!
To get on our Wait List…click here!
Cricket is a beautiful Cou Clair 2nd Gen Mini Nubian doe.  Her dam, Clair, has infused some great Nubian genetics into our herd.  We have retained Cricket this year, and we retained her sister, Clover, last year.  Cricket's pedigree has a nice blend of old and new lines.  Her sire, Memphis, has put some great width on her, and we are excited to get her in the show ring, both virtual and live! We are excited to see her first freshening!
Meadowlark is a very nice POLLED buckling with lots of flashy colors and spots…plus MILK behind him!  He is out of Ruby and Indy's quadruplets.  He's got ears for years, and a very sweet, loving personality. 
Doelings or bucklings from this pairing are sure to infuse some stellar Nubian genetics into your herd!