FEMALE
Nickname

FCH Rafter O Four Leaf Clover

Date of Birth

Mar 24, 2019

Mother

Nomad Once in a Blue Moon

Father

One Nine Acres Blue Indigo

MDGA

XN09564
FCH Rafter O Four Leaf Clover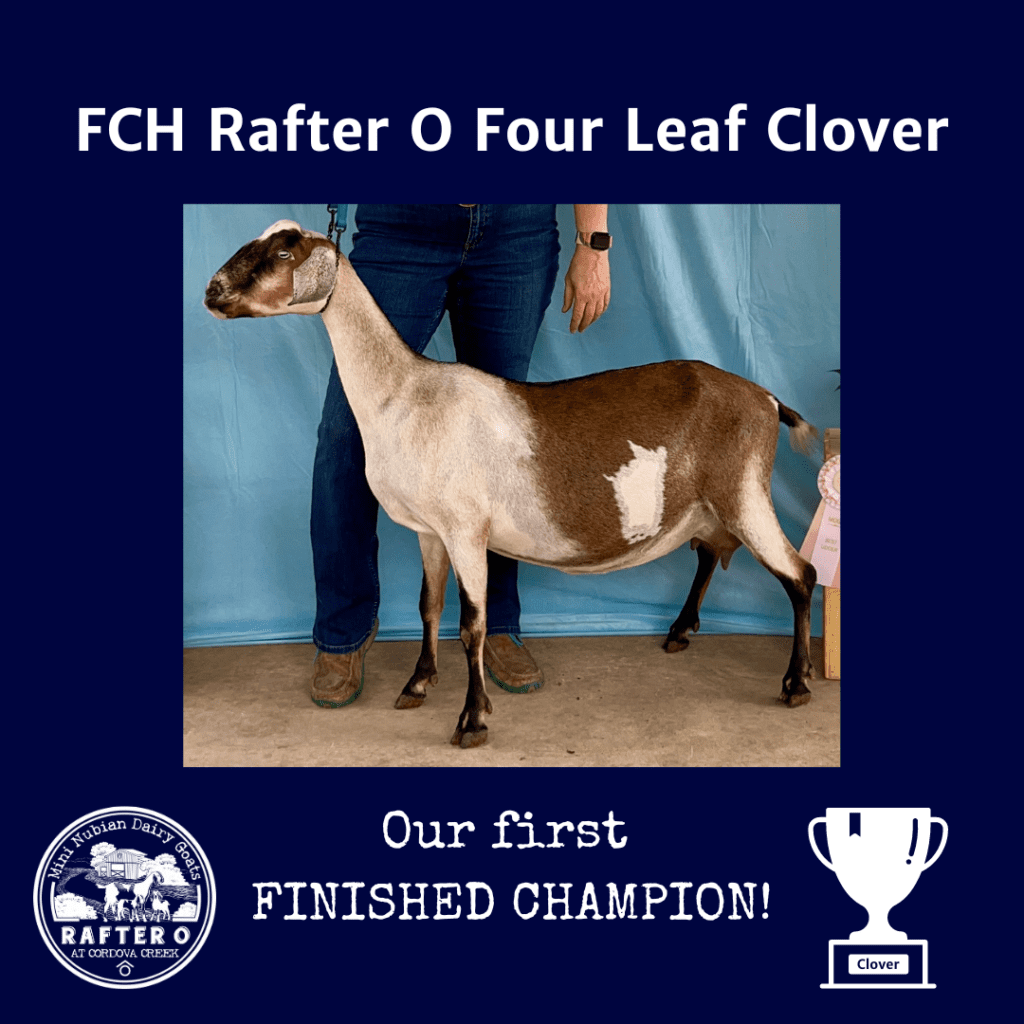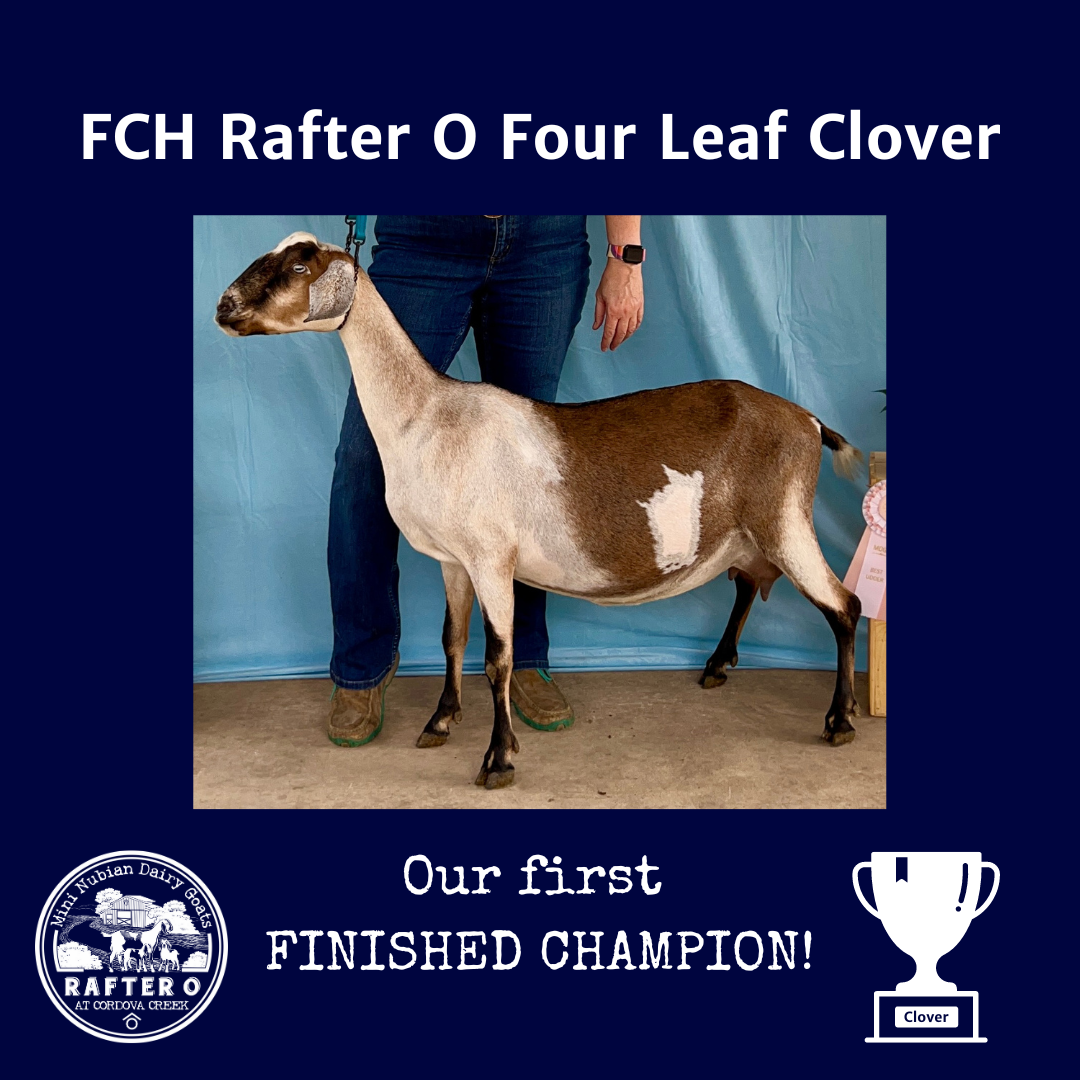 Breed: Mini Nubian 2nd Gen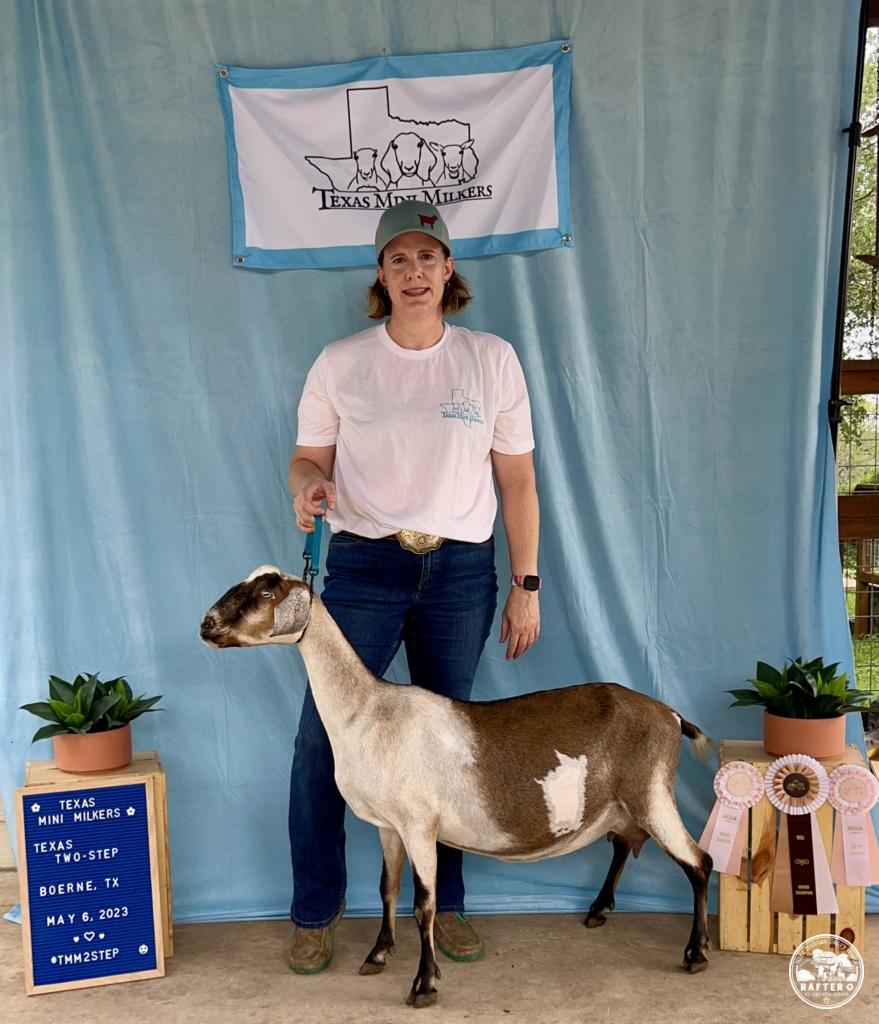 Date of Birth: 03-24-2019
Percentage: 76.16% Nubian / 23.84% Nigerian
Two-tone Chamoisee, Blue Eyes (homozygous)
G6S Normal by Parentage
Clover is a beautiful two-tone chamoisee doe with blue eyes.  She is very feminine and has a great topline and overall conformation.  Clover's pedigree is outstanding on both sides.  Her dam, Clair, comes from top Nubian herds.  Indy, her sire, is a purebred Mini Nubian with lineage back to quality, foundation Mini Nubian herds.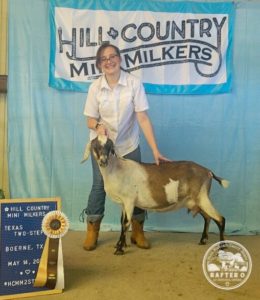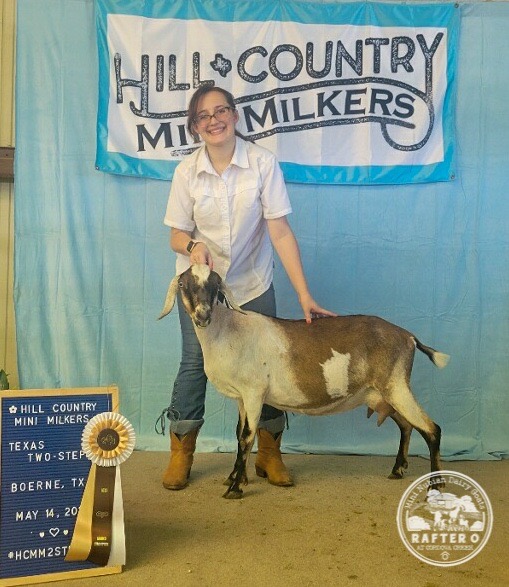 In May 2023, Clover won Grand Champion Mini Nubian Senior Doe in the Texas Mini Milkers Texas Two-Step under Judge Morgan Allen.  She also received Best Udder in both rings!  Later in the month at the Memorial Classic in Brenham, Texas, Clover earned her final leg, Grand Champion Mini Nubian Senior Doe and Best Udder under Judge April Hitch.
In May 2022, Clover won Grand Champion Mini Nubian Senior Doe in the Hill Country Mini Milkers Texas Two-Step under Judge Brandi Giachino.  The competition was fierce, and we are very happy that she came away with Grand Champion!
Clover has freshened three times with buck/doe twins.  Her udder has very high attachments, good teat size, and placement.  We retained her 2021 doeling, Verbena, and a 2022 buck, Pancho.  It is highly likely that Clover is homozygous for blue eyes, as all of her kids have had blue eyes.  Verbena won Reserve Grand Champion as a Junior Doe in the MDGA Fall 2022 Virtual Show and she won Reserve Grand Champion Senior Doe in the Texas Mini Milkers Texas Two-Step on May 6, 2023.
2020 TMGR Conformation Clinic Comments (Evaluator: Rebecca Nix)
"This is a very correct doe in all aspects. She is very balanced, feminine, and shows nice dairy strength. She has a long lean neck, I think she may be pulling down a bit on the collar giving the illusion of not blending as well into wither. Her shoulder assembly is very correct when viewed from the side. The foreleg placed appropriately under the wither, with adequate extension of chest and brisket. She has nice depth at the heart girth. Very long body with a strong and straight back. The rump could be a bit longer from hip to pin, but she shows correct shape to the rump. From the front, the only thing I'd like to see is the shoulder a bit wider at the top and the lower foreleg, from the knee down just a bit straighter. This doe has one of the best escutcheons in the group showing lots of width at the top, free of excess tissue, and the thighs curve outward. She is very correct in the rear legs when viewed from the rear being perpendicular from pin, hock, and fetlock. She does turn out slightly on the lower left foot. She has very correct hoof shape and pastern length. She has exceptional rear leg angulation from the side and if her rump were a bit longer from hip to pin, the hock would be able to be placed more appropriately under the pin. When looking over the top she shows very correct body shape, with full fore ribs and a nice spring to her barrel. From this view again it is clear to see the rump is just a little short from hip to pin. Really solid doe and when selecting a buck I think the focus should be on rumps."
Name Origin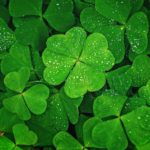 The four-leaf clover (officially known as Oxalis deppei) is a small plant with four distinct leaves. It's a rare variation of the common three-leaf clover, and because your chances of finding one with four leaves is about 1 in 10,000, they're considered lucky.
Four-leaf clovers have been around for ages, and their supposed lucky powers are talked about in centuries-old legends. In the early days of Ireland, Celtic priests known as Druids carried three-leaf clovers, or shamrocks, in the belief that with their help, they could see evil spirits approaching and be able to escape. Four-leaf clovers, then, were Celtic charms, offering magical protection and warding off bad luck. Children in the Middle Ages believed they might be able to see fairies if they carried a four-leaf clover.
Kidding History
Clover's Kids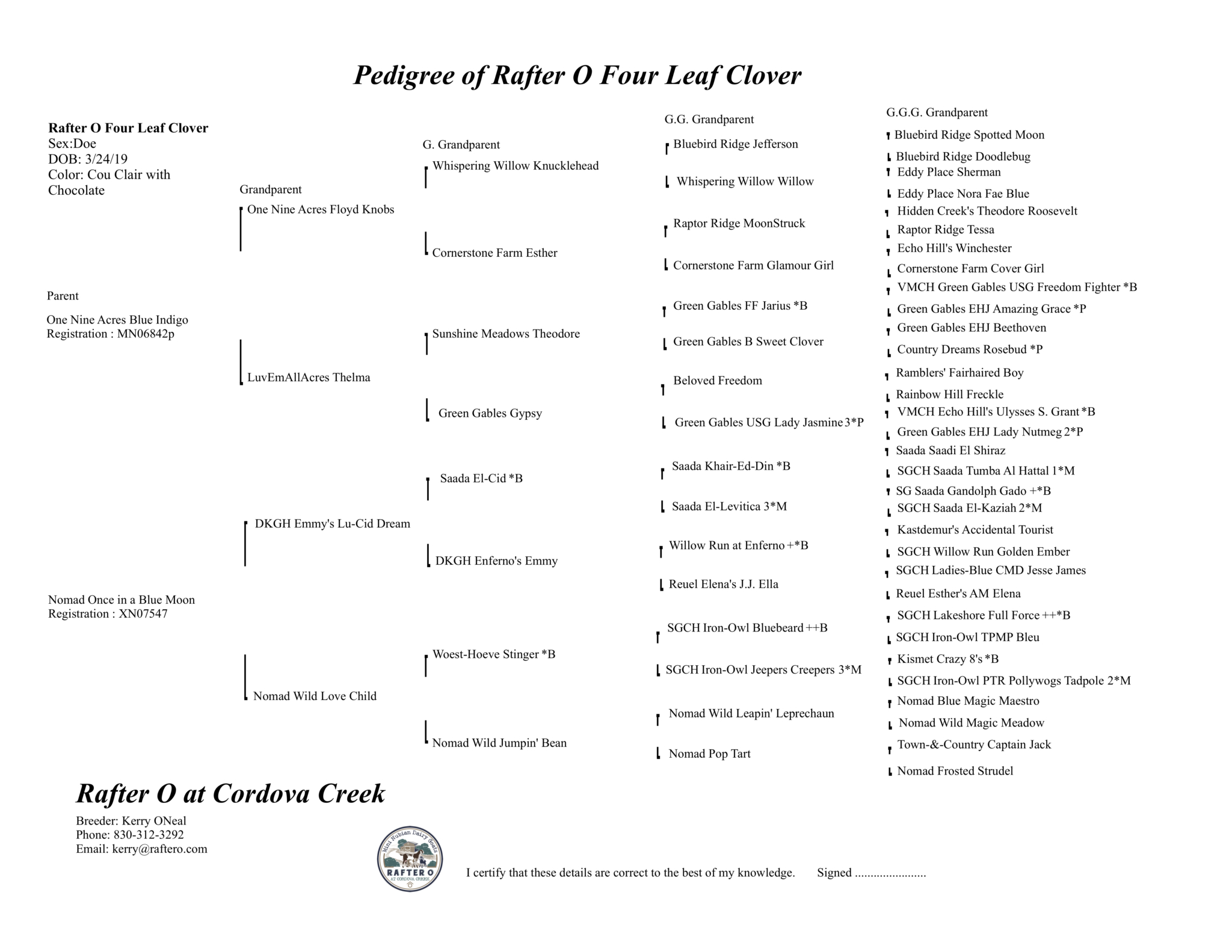 Clover Pedigree Photos
Health & Screenings
CAE, CL, Johne's - Negative

CAE, CL, Johnes, Q-Fever - Negative

G6S Normal by Parentage

CAE, CL, Johnes, Q-fever, Brucellosis - NEGATIVE
Achievements & Titles
Best Udder - Mini Nubian Senior Doe

Memorial Classic
May 2023
April Hitch

Grand Champion - Mini Nubian Senior Doe

Memorial Classic
May 2023
April Hitch

Best Udder - Mini Nubian Senior Doe

Texas Mini Milkers Texas Two-Step
May 2023
Ashley Burton

Best Udder - Mini Nubian Senior Doe

Texas Mini Milkers Texas Two-Step
May 2023
Morgan Allen

Grand Champion - Mini Nubian Senior Doe

Texas Mini Milkers Texas Two-Step
May 2023
Morgan Allen

Grand Champion - Mini Nubian Senior Doe

HCMM Texas Two-Step
May 2022
Brandi Giachino

3rd in 2-3yr Senior Mini Nubian Doe Age Class

HCMM Texas Two-Step
May 2021
Patrick Page-Sutter