MALE
Nickname

Rafter O Red-tailed Hawk

Date of Birth

May 01, 2021

Mother

Rafter O Doodlebug

Father

Blackberry's BQ Frozen Tundra *B

rs_page_bg_color
Rafter O Red-tailed Hawk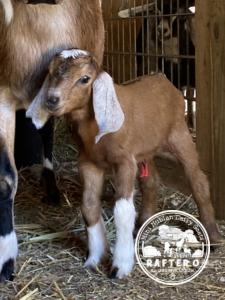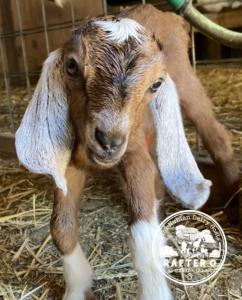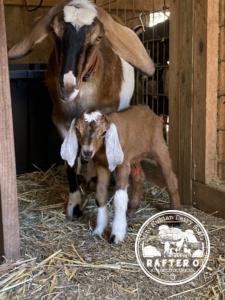 GENERATION: 7TH PUREBRED
PERCENTAGE: 57.62% NUBIAN / 42.38% NIGERIAN
G6S Normal by Parentage
For Sale…click here!
To get on our Wait List…click here!
Hawk is an outstanding purebred buckling out of our award-winning Doodlebug and Tundra.  He will be a great herd sire bringing milk and conformation (and ears) to your farm!
Doodlebug has great body depth and capacity. Her FF udder was well attached with great teat and orifice size.  We are looking forward to her gaining capacity with her second freshening.  What she lacks in flashiness, she makes up for in conformation.  She won Best Junior Doe in Show and Reserve Champion Junior Doe at the Texas Two-Step MDGA Show in June 2019.  Her dam, June Bug, has won two Best Udder in Show ribbons. 
Tundra is our spectacular new buckling from out West.  He brings in a powerhouse pedigree of champs and milk stars. He's got great conformation, and should only improve these kids! 
Tundra took Reserve Champion Junior Mini Nubian Buckling in Ring 2 of the Fall 2020 MDGA Virtual Show!  He also took 1st place in his Intermediate Buckling class in both rings.