MALE
Nickname

Rafter O Texas Tornado

Date of Birth

Mar 31, 2023

Mother

Blackberry's BV Snow Drop Obsidian 2*P

Father

Rafter O Ravine Haze
Rafter O Texas Tornado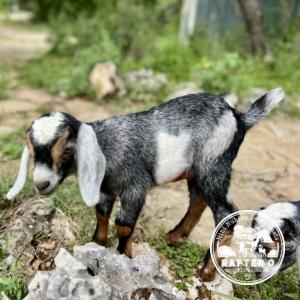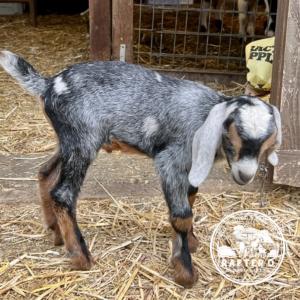 GENERATION: PUREBRED 6TH
PERCENTAGE: 60.39% NUBIAN / 39.61% NIGERIAN
ROAN.
To get on our Wait List…click here!
Snow Drop joins us from CA Blackberry's Goat Herd in Valley Center, CA.  She has a powerhouse pedigree filled with champions and milk!  Snow Drop arrived at our farm in February 2020.  We are excited to see how she matures!  Snow kidded in June 2022 with buck/doe twins.  Her FF udder looks fantastic…a very nice fore udder and great teat, and orifice size.  We were unable to do milk test in 2022, but we will milk test our herd in 2023 and Snow will easily earn her milk star.  We milk her once daily and she produces about 1/2 gallon. 
Snow Drop took Grand Champion Junior Mini Nubian Doe at the Hill Country Mini Milker Texas Two-Step on May 15, 2021, under Judge Lorelei Hallock.
We retained her 2022 doeling, Sprite.
Haze has got it all!  Polled, blue eyes, flashy colors, and a super sweet personality!  Haze is out of Pixie and Levi – goats that have left our herd, so we are happy to have their superior genetics in this nice little buck.  
This pairing is blending two great lines in our herd.  We are excited to see the results!