MALE
Nickname

Rafter O Texas Red Oak

Date of Birth

Apr 07, 2021

Mother

Rafter O Fox Squirrel

Father

Blackberry's BQ Frozen Tundra *B

rs_page_bg_color
Rafter O Texas Red Oak "Buckley"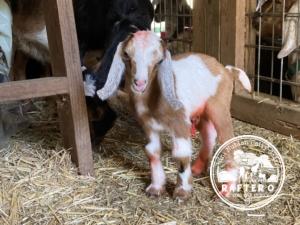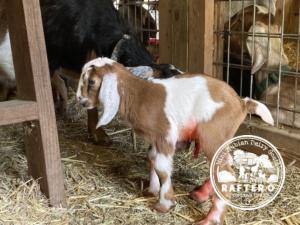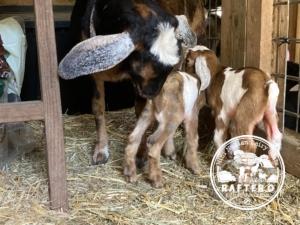 GENERATION: PUREBRED 6TH
PERCENTAGE: 59.61% NUBIAN / 40.39% NIGERIAN
POLLED.
Available
Buckley is SO cute!  He is POLLED!  Long ears and a cute pink nose.  While not as spotted as his brother, he's got lots of black spots.  Both dam and sire are on the smaller side, so he will help bring down your size.  Foxy's FF udder is looking great!
To get on our Wait List…click here!
Foxy will be a first-time freshener.  Foxy, won Grand Champion Junior Doeling at the Hill Country Mini Milker Texas Two-Step on June 2, 2019.  She inherited Pixie and Memphis's width and depth.  We are excited to see her FF udder!
Tundra is our spectacular new buckling from out West.  He brings in a powerhouse pedigree of champs and milk stars. He's got great conformation, and should only improve these kids!  We specifically brought him in to breed to our polled does since he is horned and disbudded.  Tundra won Reserve Grand Champion Mini Nubian Buckling in the Fall 2020 MDGA Virtual Show, and he just earned his *B.