FEMALE
Nickname

Rafter O Venus

Date of Birth

Feb 22, 2023

Mother

Rafter O Wild Verbena

Father

Blackberry's BQ Frozen Tundra *B
Rafter O Venus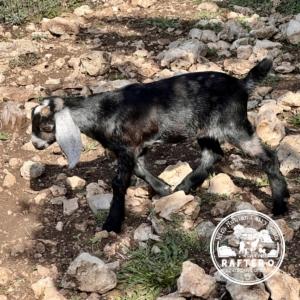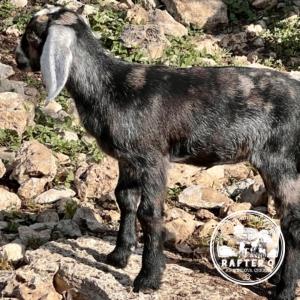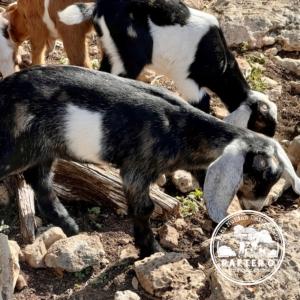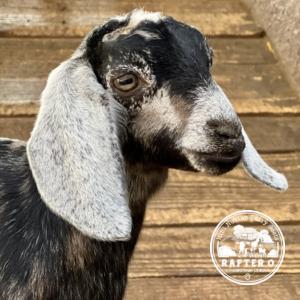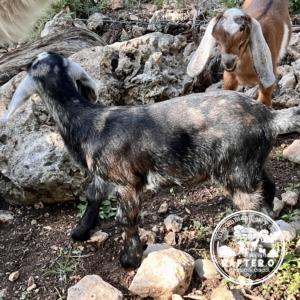 GENERATION: 4TH
PERCENTAGE: 64.03% NUBIAN / 35.97% NIGERIAN
MOONSPOTS.
To get on our Wait List…click here!
Verbena has it all!  She is blue-eyed, polled, and has the unique Cou Clair color pattern – and an excellent pedigree!  Her dam, Clover, is a beautiful two-tone chamoisee doeling with blue eyes.  She is very feminine and has a great topline and overall conformation.  Clover's pedigree is outstanding on both sides.  Verbena's grand dam, Clair, comes from top Nubian herds.  Her sire, Memphis, put great width on his kids, and his dam, Tootsie, just earned her milk star!
Verbena did very well in the Hill Country Mini Milker Texas Two-Step in May 2022 – winning her age class. 
Tundra is our spectacular buck from out West.  He brings in a powerhouse pedigree of champs and milk stars. He's got great conformation, and should only improve these kids!  We specifically brought him in to breed to our polled does since he is horned and disbudded – but we are using him on several girls this year.  Tundra won Reserve Grand Champion Mini Nubian Buckling in the Fall 2020 MDGA Virtual Show!  Tundra also has his *B – milk star.  AND…Tundra won Reserve Grand Champion Mini Nubian Senior Buck in the Summer 2021 MDGA Virtual Show!
The kids are merging more of our great lines at the Rafter O!  Expecting some superb kids out of this pairing!