FEMALE
Nickname

Rafter O Wild Verbena

Date of Birth

Mar 23, 2021

Mother

Rafter O Four Leaf Clover

Father

Rite Choice Memphis Blue

MDGA

AMN13179P
Rafter O Wild Verbena
Breed: Mini Nubian 3rd gen
Date of Birth: 03-23-21
PERCENTAGE: 65.94% NUBIAN / 34.06% NIGERIAN
POLLED, BLUE-EYES, COU CLAIR
G6S Normal by Parentage
Verbena has it all!  She is blue-eyed, polled, and has the unique Cou Clair color pattern – and an excellent pedigree!  Her dam, Clover, is a beautiful two-tone chamoisee doeling with blue eyes.  She is very feminine and has a great topline and overall conformation.  Clover's pedigree is outstanding on both sides.  Verbena's grand dam, Clair, comes from top Nubian herds.  Her sire, Memphis, put great width on his kids, and his dam, Tootsie, just earned her milk star!
Verbena won Reserve Grand Champion Mini Nubian Senior Doe in the Texas Mini Milkers Texas Two-Step on May 6, 2023 under Judge Ashely Burton.  Both judges commented on how beautiful she is on the move in the ring!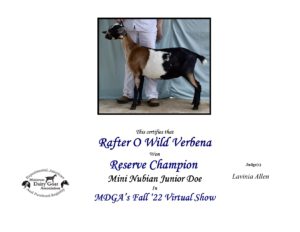 Verbena won Reserve Grand Champion Mini Nubian Junior Doe in the Fall 2022 MDGA Virtual Show!  Comments from Judge Lavinia 
Allen: The Mini Nubian Reserve Grand Champion Junior Doe is Entry H from the Senior Yearling Class.  Again, this doe has the advantage in her Body Capacity being very deep in her heart girth and barrel.   In General Appearance, Entry H exhibits strong straight legs from the front and rear with good angulation of the rear legs when viewed from the side,  good width in her chest floor, and she has good length of bone as seen through her topline with smooth blending from the loin into a more correct slope from hips to pins.  This doe also shows good breed character for a Generation 3.
Name Origin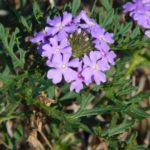 Prairie Verbena has gently rounded clusters of bilaterally symmetrical pink, lavender, or purple flowers bloom atop stems with highly divided leaves. The Spanish name, Moradilla, comes from morado ("purple") and means "little purple one." This plant often forms brilliant displays of pink or light purple, covering acres of ground. It is a variable complex, with some plants tall and pink-flowered, others more matted, and with lavender or purple flowers; the two forms are usually found in separate areas. The genus Glandularia is closely related to Verbena, differing conspicuously in its round-topped clusters of showy flowers; in some references, this species is listed as Verbena ambrosifolia.
This species is a member of the verbena family (family Verbenaceae), which includes about 75 genera and 3,000 species of herbs, shrubs, and trees, mostly of tropical and warm temperate regions. Among them, teak is a highly prized furniture wood, and Vervain, Lantana, Lippia or Frog Fruit are grown as ornamentals.
Kidding History
Verbena Kids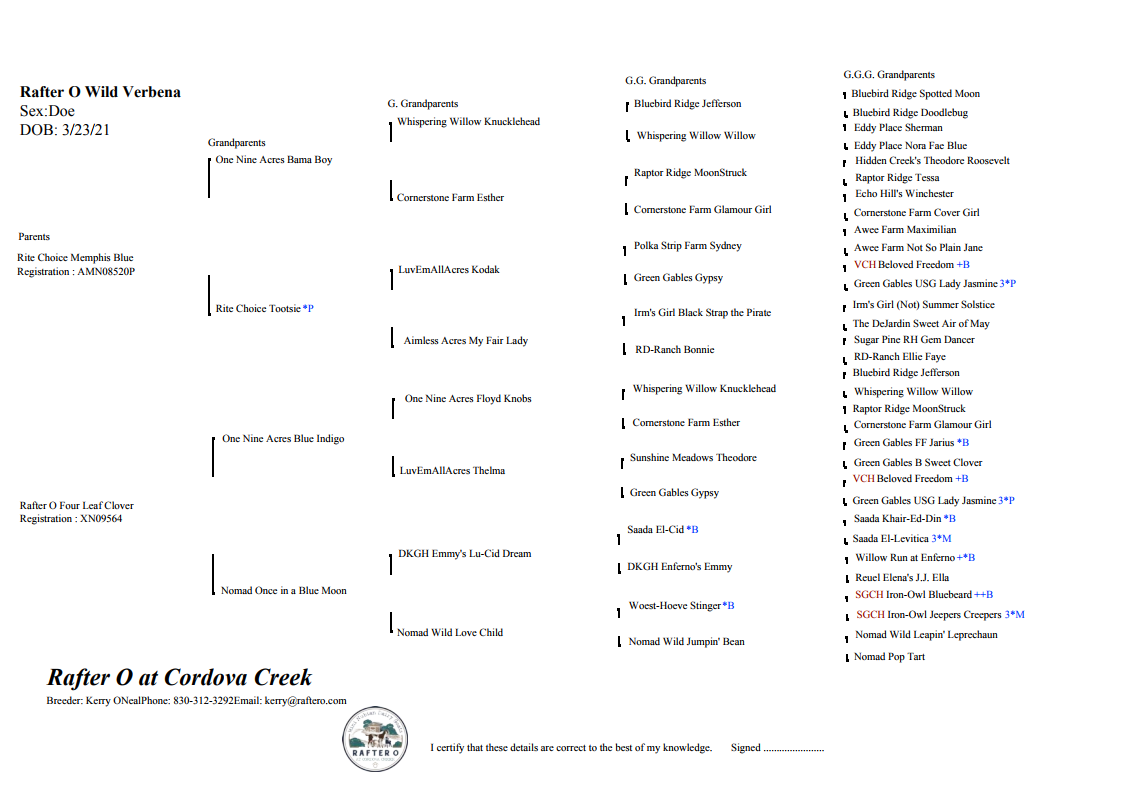 Verbena Pedigree Photos
Health & Screenings
CAE, CL, Johne's - Negative

G6S Normal by Parentage
Achievements & Titles
Reserve Grand Champion - Mini Nubian Senior Doe

Texas Mini Milkers Texas Two-Step
May 2023
Ashley Burton

Reserve Grand Champion - Mini Nubian Junior Does

MDGA Fall 2022 Virtual Show
October 2022
Lavinia Allen

1st in 12 to 18 month Junior Mini Nubian Doe Age Class

HCMM Texas Two-Step
May 2022
Brandi Giachino