MALE
Nickname

Rafter O Indian Paintbrush

Date of Birth

Mar 23, 2021

Mother

Rafter O Four Leaf Clover

Father

Rite Choice Memphis Blue

rs_page_bg_color
Rafter O Indian Paintbrush "Quanah"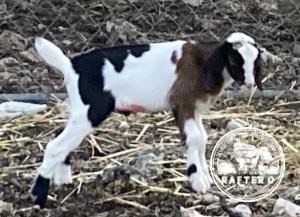 GENERATION: 3RD
PERCENTAGE: 65.94% NUBIAN / 34.06% NIGERIAN
BLUE-EYES.
To get on our Wait List…click here!
Quanah is a very nice buckling that will infuse some great Nubian genetics and blue eyes into your herd.  I'm keeping his sister, Verbena, and his dam's udder is looking phenomenal with no separation.  We will get 12-hour fill pictures posted soon.  Both dam and sire have wonderful conformation, and I'm expecting great things from these kids!
Clover is a beautiful two-tone chamoisee doeling with blue eyes.  She is very feminine and has a great topline and overall conformation.  Clover's pedigree is outstanding on both sides.  Her dam, Clair, comes from top Nubian herds.  Indy, her sire, is a purebred Mini Nubian with lineage back to quality, foundation Mini Nubian herds.  We are excited to see her first freshening!
Memphis has the whole package – polled, blue eyes, milk, and a moon spot!  His kids in 2019 and 2020 were fantastic.  They all had great width and conformation.