FEMALE
Nickname

Rafter O Antelope Horns

Date of Birth

Apr 08, 2023

Mother

FCH Rafter O Four Leaf Clover

Father

Rafter O Ravine Haze
Rafter O Antelope Horns "Annie"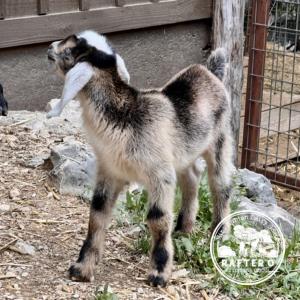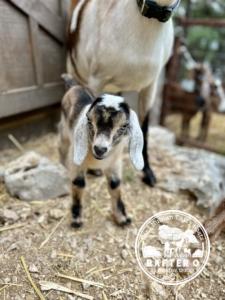 GENERATION: 3RD
PERCENTAGE: 76.94% NUBIAN / 23.06% NIGERIAN
POLLED, BLUE-EYES, COU CLAIR.
To get on our Wait List…click here!
Clover is a beautiful two-tone chamoisee doe with blue eyes.  She is very feminine and has a great topline and overall conformation.  Clover's pedigree is outstanding on both sides.  Her dam, Clair, comes from top Nubian herds.  Indy, her sire, is a purebred Mini Nubian with lineage back to quality, foundation Mini Nubian herds. 
Clover has freshened twice with buck/doe twins.  Her udder has very high attachments, good teat size, and placement.  We retained her 2022 doeling, Verbena, and her 2023 kids, Lantana and Pancho.
In May 2022, Clover won Grand Champion Mini Nubian Senior Doe in the Hill Country Mini Milker Texas Two-Step under Judge Brandi Giachino.  The competition was fierce, and we are very happy that she came away with Grand Champion!
Haze has got it all!  Polled, blue eyes, flashy colors, and a super sweet personality!  Haze is out of Pixie and Levi – goats that have left our herd, so we are happy to have their superior genetics in this nice little buck. 
Hoping for some very nice kids from this pairing!